2 March 2022
Dr Mereena Ushakumary is a postdoctoral researcher studying late lung development in Dr Anne-Karina Perl's laboratory at Cincinnati Children's Hospital. With in-person conferences returning after the disruption of the pandemic, she took the opportunity to attend her first Gordon Research Conference.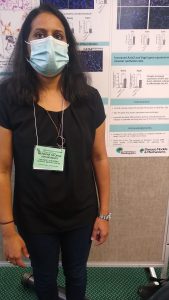 Mereena's research focuses on Bronchopulmonary Dysplasia, a respiratory disease that affects premature infants. This condition particularly impacts the patients' alveoli, since alveolar formation is the final step in lung development. As in-person conferences began to return, Mereena set her sights on attending the 2021 Gordon Research Conference on Lung Development, Injury and Repair. She explained that this meeting represented "[…] a great opportunity to network with people from both academia and industry to explore multiple aspects of scientific advancement and translational science". The conference brought together the international community of clinicians and researchers working in the lung field. Alongside the scientific programme, issues beyond the bench were considered; for example, a breakout session focussed on the challenges faced by women and underrepresented groups in the research community.
A DMM Conference Travel Grant supported Mereena's attendance at the meeting, where she presented her latest work on the role of GATA6 in alveolar development. GATA6 is a transcription factor that plays an important role in alveolar epithelial cell differentiation. However, its role in PDGFRa+ fibroblasts has not been previously explored. Mereena's research has shown that GATA6 expression in PDGFRa+ fibroblasts is crucial for proper alveolar septation and epithelial cell differentiation in mice, with the loss of this transcription factor from PDGFRa+ fibroblasts leading to morphological and structural aberrations.
Mereena's findings stimulated discussion ranging from high-level concepts to technical issues, and she received valuable feedback on her project from fellow attendees: "[…] this was a fabulous experience for me in terms of fruitful discussions and networking opportunities with junior and senior scientists. I believe that collaborative approaches like this will help translate biological discoveries towards advances in respiratory medicine".