Working for us
We're always looking for talented and motivated people to work as part of our close-knit team. Roles range from editorial to production, marketing to event co-ordination, HR to accounts. Our size means that you will also have the opportunity to get involved with specialist projects.
Our staff have a variety of backgrounds – with many coming from scientific research as well as from the world of publishing. It's this mix of experience that helps us to support and inspire the biological community.
We are an equal opportunities employer and offer a competitive salary and benefits including a non-contributory pension scheme. Staff are based in our Cambridge office.
Vacancies will be posted on this page, but if you don't see anything relevant please do still get in touch with us by emailing recruitment@biologists.com.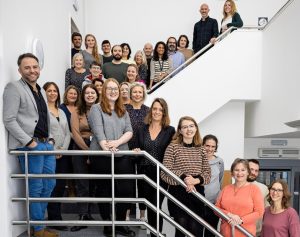 Hosted internships
We offer professional internships for PhD students. Each internship is carefully defined, both with the institute and the individual, and usually involves projects with our journal teams. Each year, we host a 12-week internship with a focus on data gathering and analysis – if you are interested in applying, please contact us at recruitment@biologists.com ideally a year in advance. From time to time, we offer additional internships, such as working on our blog, the Node – for these, please look out for one of our job adverts.
Hosted internships are funded through PhD programmes – created by funders to help further your professional development – and should be agreed with your PhD supervisor and institute.
The Company of Biologists (CoB) is looking to appoint new Trustee Directors to its Board
CoB is a registered charity established for the general advancement and promotion of biology in all its branches. It owns and publishes five scientific journals, (Development, Journal of Cell Science, Journal of Experimental Biology, Disease Models and Mechanisms, Biology Open) distributes grants, and hosts scientific workshops. CoB is committed to the widest possible dissemination of the research it publishes and to educational and charitable initiatives that seek to build awareness of developments in life sciences.
The Board of Directors is responsible for the overall strategy and direction of the Company; oversees finances, sustainability and risk management; and provides guidance to the management team.
We are looking to recruit new Trustee Directors who have an interest in CoB's science vision and strategy and are keen to use their knowledge and experience to further these.
Trustee Directors should be able to make a commitment of 10 days per annum to prepare for and attend meetings (Board and committee) in London and Cambridge. Virtual attendance at some meetings is possible. The position is voluntary but expenses are reimbursed. Further information is available here
If you believe you can make a significant contribution to the governance and development of CoB, please send a covering letter and a personal statement of no more than one page, detailing why you are interested in becoming a Trustee Director, together with your CV to Katie.Ward@biologists.com