Forthcoming events
We attend and/or present at a wide range of events and webinars each year and you can stay up to date by following us on Twitter and LinkedIn.
2021 NordILL Online Conference: 25-26 October 2021
Rich Blount, Regional Sales Manager – Europe, will be attending the 14th Nordic Resource Sharing, Reference and Collection Management Conference from 25-26 October 2021. The theme is Empowering knowledge – Accelerating access. Please contact Rich to arrange a call.
OA agreements with small independent publishers: a how-to guide with real, friendly publishers. Charleston Virtual Pre-conference: 28 October 2021 (US$50 to register)
Are you interested in negotiating a Read & Publish Open Access agreement with a small independent publisher such as The Company of Biologists? Our Publisher Claire Moulton will be participating in a highly practical, half-day Charleston virtual pre-conference session along with Judith Russell (University of Florida), Lorraine Estelle and Alicia Wise (Information Power) and Miguel Peralta (Rockefeller University Press). It costs $50 to register for the session and you can attend even if you are not attending the full Charleston conference.
Hear Judith Russell talk about the session in this 30-second video.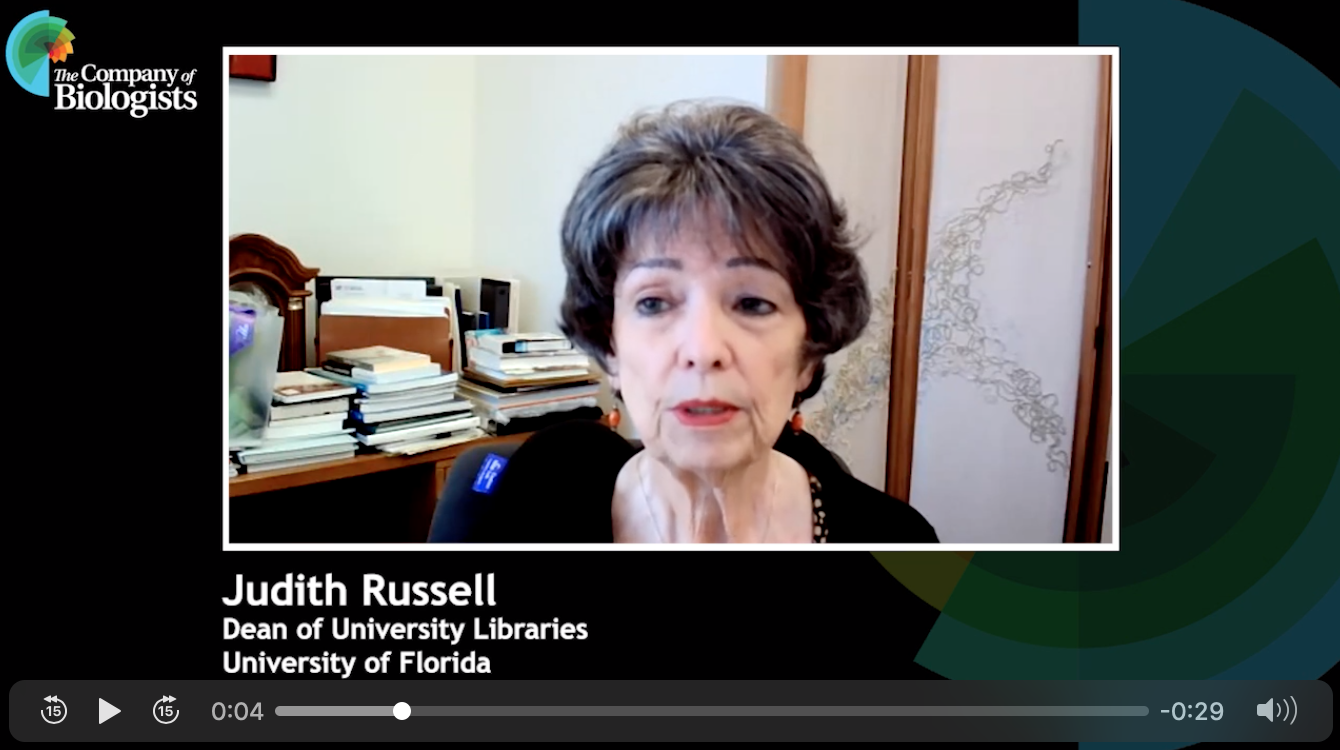 Charleston Library Conference: 1-5 November 2021
We are participating in the vendor showcase at the Charleston Library Conference again this year. Richard Grove, Commercial Manager, will be delighted to see you at our virtual booth and please contact us if you would like to arrange a call.
ER&L Virtual Conference: 14-17 March 2022
We look forward to participating at ER&L once again next in 2022.
Recent events
We have attended, sponsored and/or presented at the following recent library conferences and events:
Beijing Book Fair: 14-18 September 2021
LIBER 2021 Annual Conference: 25 June 2021 (talk with Claire Moulton, Publisher at The Company of Biologists entitled "How libraries and consortia can support the OA transitions of not-for-profit publishers, and why")
ALPSP session at the London Book Fair: 24 June 2021 (chaired by Claire Moulton, Publisher at The Company of Biologists entitled "The impact of preprints")
ALPSP/Jisc Webinar: 15 June 2021 (presentation by Claire Moulton, Publisher at The Company of Biologists entitled  "Transformative Agreements – where are we now?")
London Book Fair – Research and Scholarly Publishing Forum: 10 June 2021 (presentation by Claire Moulton, Publisher at The Company of Biologists entitled "A not-for-profit publisher's perspective on Read & Publish OA agreements")
European University Association (EUA) webinar series: 8 June 2021 (presentation by Claire Moulton, 

Publisher at The Company of Biologists, 

as part of Quo vadis, transformative agreements? webinar – watch recording)

Society for Scholarly Publishers (SSP) conference (presentation by Claire Moulton, Publisher at The Company of Biologists: 24 May 2021)

The Association of College & Research Libraries (ACRL) Conference: 13-16 April 2021

Heads of University Biosciences (HUBS) Annual Meeting: 12-13 April 2021
UKSG Annual Conference: 12-14 April 2021
Electronic Resources and Libraries Conference (ER&L): 8-11 March 2021
Australian Library and Information Association (ALIA) Information Online Conference: 8 February 2021
American Library Association (ALA) Midwinter Meeting: 22-26 January 2021

Challenges in the Scholarly Publishing Cycle (CISPC) Conference: 30 November – 1 December 2020

European Association for Health and Information Libraries (EAHIL) Conference: 16-18 November 2020

UKSG Conference: 11-12 November 2020
Charleston Library Conference: 2-6 November 2020