2 August 2023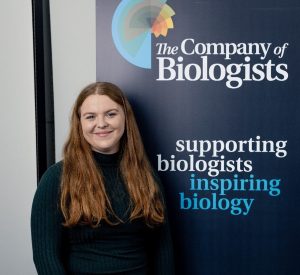 Erin Brown recounts her recent internship experience with The Company of Biologists.
"I have been fortunate to have undertaken my Professional Internships for PhD Students (PIPS) at The Company of Biologists. The decision to choose an internship within publishing was driven by a curiosity to understand a different perspective of the academic process. From the application process to my arrival in Cambridge, I felt supported and excited with how my 12-week experience outside the lab would go.
During my three months, I worked on various data analysis projects with a broad focus on article analytics such as usage and citations. It was very interesting to learn how the impact factor calculation works (noting that it should always be considered within a broader set of metrics). I also spent a lot of time exploring the data surrounding different article types and how each of these articles contribute to the journals overall. Some of my data was presented by the Managing Editors to the journal Editors-in-Chief and the Board of Directors to help with future decisions about the journals. It was a nice feeling to be able to contribute and help the different journal teams.
My internship has given me a nice outlook on careers outside of the immediate academic setting. Anyone who is interested in The Company of Biologists internship programme… I highly recommend applying! Every member of the team made me feel welcomed and this only made my internship that much better."