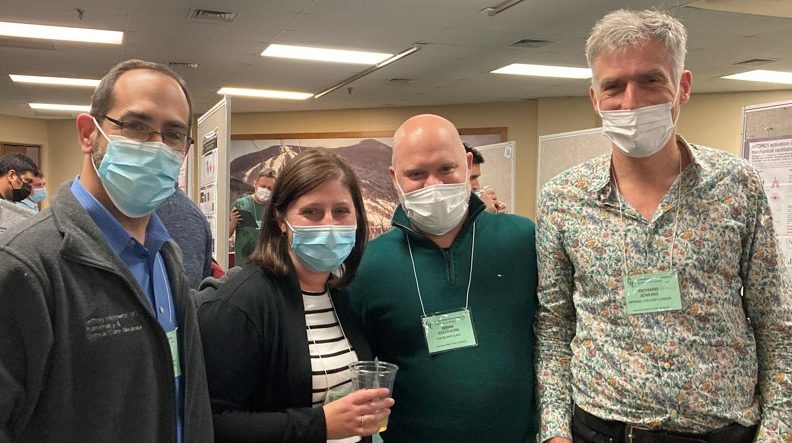 27 January 2022
For Dr Anne-Karina Perl, an associate professor at Cincinnati Children's Hospital, November 2021 was truly uplifting. Almost two years into the coronavirus pandemic, she was finally heading to an in-person meeting in the form of the Gordon Research Conference (GRC) on Lung Development, Injury and Repair. Even more significantly, this was a conference that she herself had coordinated, steering the meeting through the uncertainties of the pandemic with the help of Dr Daniel Tschumperlin, Dr Rory Morty, and Dr Xin Sun.
The Lung Development, Injury and Repair Gordon Conference brings together an international community of clinicians and researchers working in the lung field and has been running every two years since 2011. For the tenth anniversary meeting in 2021, it was decided that the conference would be held in the beautiful location of Waterville Valley, New Hampshire. However, it wasn't long before these nascent plans were being threatened by an unprecedented challenge: the coronavirus pandemic. "Organising this conference was a huge rollercoaster", Dr Perl said, as she began recounting the unique set of hurdles that she and her fellow organisers had faced in bringing this meeting to life, ranging from travel bans to supply issues.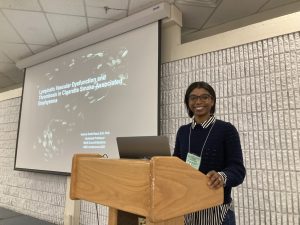 The meeting was originally planned to take place in the summer months but, due to uncertainties surrounding the coronavirus situation in the US, the decision was made to move it to 7-12 November 2021. Dr Perl notes that they had a stroke of luck here, due to their early decision to hold the conference in Waterville Valley; previous meetings had taken place in college settings which would have been unworkable in the autumn due to the arrival of students at the start of the new academic year. Alongside navigating these logistical issues, the organisers needed to consider how to keep attendees safe. The GRC Board of Trustees, which supports over 400 scientific communities, decided to introduce a vaccine mandate as a condition of attendance and promoted the use of masks. Social events were scaled back, and no large official outings were organised. However, attendees still had free afternoons where there was the opportunity for small groups to meet and take part in activities such as hiking. This promoted a friendly atmosphere which facilitated further discussion and networking.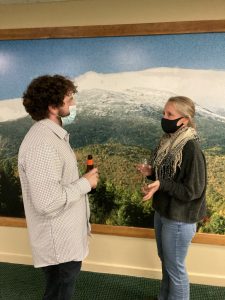 As well as affecting the organisation of the conference, COVID inevitably made an appearance in the scientific programme. For example, invited speaker Dr Gisli Jenkins discussed his work on alveolar injury and the development of post-COVID fibrosis. As a London-based researcher, Dr Jenkins was affected by a travel ban that prevented many invited speakers from entering the United States. Dr Perl explained that some of the affected speakers were able to seek exemptions from the ban which allowed them to make the journey, but that Dr Jenkins was not granted one of these. However, he remained positive, and, in another example of good fortune, the travel ban was lifted just in time for him to take a flight out of the UK. Other speakers who could not attend in-person were still included in the programme and gave their talks via video link, and the schedule was designed to accommodate for any time differences.
Travel bans were not the only obstacle to attendance. Since several members of the lung research community are also active in the clinic, many were needed in hospital intensive care units to help treat coronavirus patients as the pandemic raged on. Despite this pressure, some were able to make an appearance at the conference for a short time. Dr Perl explained that, for these clinicians, being able to attend seemed to have boosted their morale, and that the conference had "really helped to re-energise them and help them to feel like there is life after COVID".
The meeting featured a broad spectrum of talks and posters, ranging from basic research to studies with translational applications. There were also breakout sessions, including the GRC Power HourTM, which aims to promote women in science. This was run by Dr Lynn Schnapp, President of the American Thoracic Society and an organiser of the inaugural lung conference in 2011. Traditionally, the conference would have ended with a grand lobster dinner, but the twin issues of the coronavirus pandemic and a supply chain crunch hitting the country meant that this had to be scaled back. However, this was the least of the attendees' worries. They were just happy to be able to congregate and discuss science in-person once more. As Dr Perl put it, being "submerged in this group of 200 people was just wonderful".
Dr Perl and her fellow organisers received a Scientific Meetings Grant from The Company of Biologists to help fund the meeting. She explained that this support was particularly important in the current climate, since many funding bodies were uncomfortable committing funds due to the constantly changing landscape of the pandemic. Charitable organisations have also been struggling to offer financial assistance, since many have found it challenging to reach their usual donors. "This is why I'm really grateful to The Company of Biologists", Dr Perl said. She believes that this conference has shown that, if careful precautions are put in place, in-person meetings can be done safely. She hopes that the research community will be able to replicate the success of this meeting and organise more in-person conferences going forward.