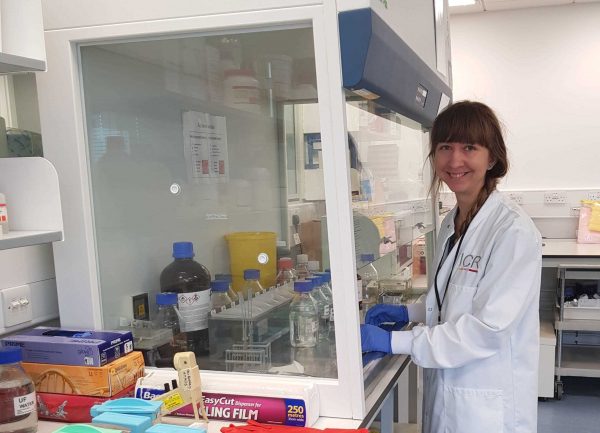 16 April 2019
Glioblastoma multiforme (GBM), a grade IV brain tumor, is the most common malignant primary brain cancer in adults. Patients with GBM have a poor prognosis following standard therapy, with a 5-year survival rate of only 3-5%. Although novel therapies against GBM have been tested, the standard care has remained unaltered for over 15 years.
Dr. Malgorzata Kucinska used a Travelling Fellowship from Disease Models & Mechanisms to travel from Poznan University of Medical Sciences in Poland to investigate a possible GBM treatment with Dr. Gabriela Kramer-Marek's lab at The Institute of Cancer Research in the UK.
Photoimmunotherapy (PIT) appears to be an innovative technology which could meet the need for targeted cancer treatment to extend patient survival with minimal side effects. It uses an antibody-photosensitizer conjugate consisting of a photo-activated phthalocyanine dye and an antibody directed against an antigen overexpressed on the surface of tumor cells. Therefore, PIT can specifically kill targeted cells, leaving neighbouring antigen-negative cells intact.
Malgorzata aimed to get more insight into the mechanism of action of AffiEGFR – a novel affibody (antibody mimetic) targeting the receptor for epidermal growth factor (EGFR) – conjugated with photosensitizer IR700DX, in patient-derived and commercially available GBM cell lines.  During her Fellowship, she developed expertise in several techniques including primary cell isolation and culture, flow cytometry and immunohistochemistry. She found it an excellent opportunity for expanding her knowledge about targeted GBM treatment and relevant pre-clinical models. Besides the scientific advantages, Malgorzata felt the possibility to work for three months in a different research environment with great scientists was a very important personal experience.