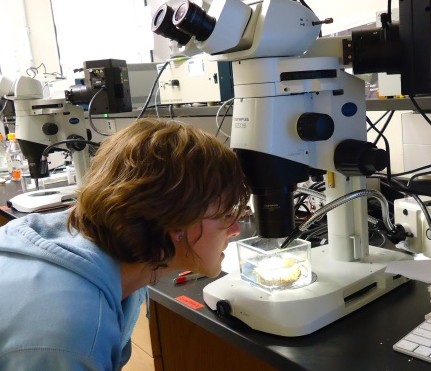 7 July 2015
A Travelling Fellowship from Development gave Alice Accorsi the inspiration and the means to collaborate in her research into the freshwater gastropod, Pomacea canaliculata. It brought her the opportunity to spend three months at the Stowers Institute for Medical Research in Kansas City, USA where she could develop her thinking, learn new techniques, exchange ideas and be inspired by leading scientists.
A final year graduate student at the University of Modena and Reggio Emilia in Italy, Alice had been studying the immune functions in this invasive and dangerous pest. She was looking for characteristics of the immune system that may make it vulnerable – and so enable control or eradication of the species. In 2013, she attendedthe Marine Biological Laboratory Embryology course at Woods Hole, MA – which is regularly supported by The Company of Biologists. There she had the opportunity to consider the incredible mechanisms able to activate either stem or differentiated cells to rebuild amputated parts of organisms. Alice observed striking regenerative abilities in P. canaliculata, finding that amputated cephalic and oral tentacles, as well as eyes, could completely regenerate in a matter of weeks.
Alice met the experienced and inspiring Prof. Sánchez Alvarado at Woods Hole and was invited to continue her research at his laboratory at the Stowers Institute. There she studied samples of regenerating parts at different time points. RNA purification and sequencing of the samples followed by bioinformatic analysis of the data allowed the construction of a transcriptome database and a high-resolution time-course was produced for each organ. The analysis of the gene expression profiles uncovered a significant number of genes differentially expressed during the regeneration processes. Alice's work will allow for future detailed molecular analyses of the pathways involved in regeneration – and was made possible by the opportunities brought by The Company of Biologists.