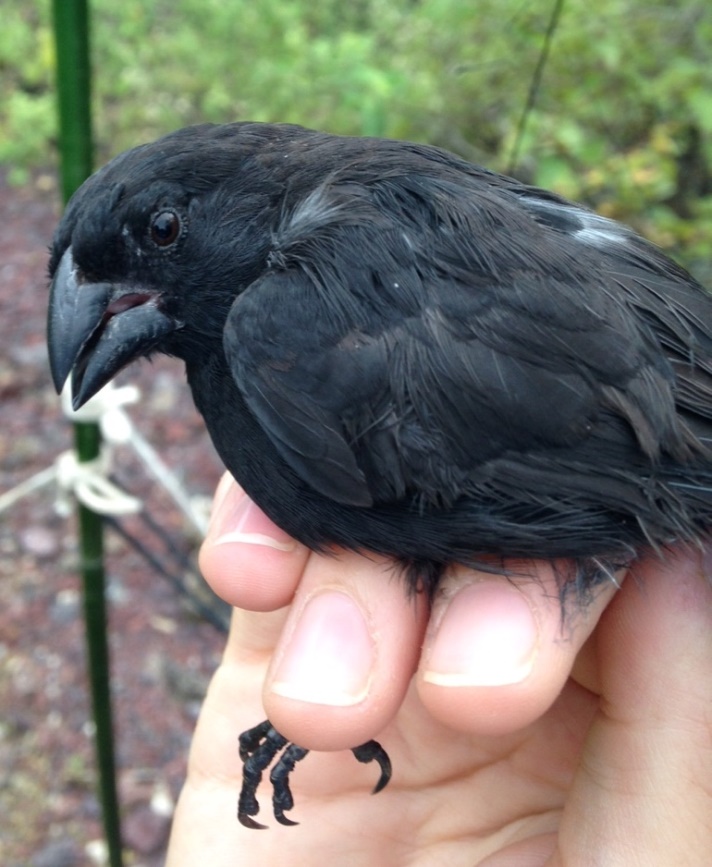 7 July 2015
The remote Galapagos Islands provide the ideal opportunity to investigate discrete populations of birds – and Darwin's Finches are one of the most important and most studied groups of all. However the islands' isolation makes research there both difficult and expensive.
A Travelling Fellowship from Journal of Experimental Biology gave Danielle Levesque (a Postdoctoral Researcher at the Institute of Biodiversity and Environmental Conservation, Universiti Malaysia Sarawak) the opportunity to join a team of international researchers investigating a specific feature of birds – the role of the bill in non-respiratory heat loss. Danielle joined investigators from the Smithsonian Migratory Bird Center in Washington DC, Brock University in Canada and the Universidad San Francisco de Quito in Ecuador who were studying the relationship between beak size and evaporative water loss in four species of Darwin's Finches.
Danielle's contribution to the project involved measuring rest-phase metabolism in these species during the night. Measures of resting metabolism provided an important baseline for the day-time evaporative water-loss experiments that comprised the bulk of the collaborative study. The data will also prove useful for future comparative studies on the basal metabolism of these species, especially with regard to the effects of insularity and climatic unpredictability on physiological traits.
This collaborative project will result in at least one publication in a high impact journal. In addition, Danielle's participation in this early stage of the project has led to connections and collaborations with other members of the team that will continue into the future.