5 May 2022
After two years of no in-person events we had our first Workshop. Between 3 and 6 April the 'Cell Size and Growth, From Single Cells to the Tree of Life' Workshop took place in East Sussex, UK. Interesting presentations, in-depth discussions, tasty desserts, and fun conversations in the orangery, the Workshop had it all. You can read more about it in our recent story.
When building the logistics of this Workshop our Meetings team kept in mind sustainability. As this was our first event after quite some time the focus was on a few simple steps that would make an actual impact. As we discussed in our previous blog Creating a paperless event, an excellent way to minimise your event's environmental footprint is to create an app that has all the necessary information on it. Our Workshop had one created from Guidebook.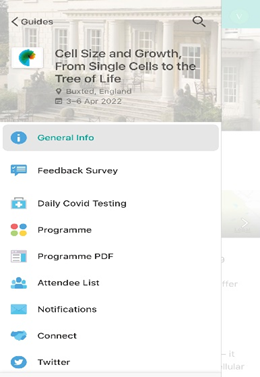 The app was created while keeping in mind that attendees need to download it on their devices; therefore it should serve multiple purposes. Each day's programme was on there, together with a notification section that provided real-time information on various daily developments. Also, since we still had some COVID measures in place, anyone using the app could access all the necessary information from there. And my personal favourite was Connect. Anyone participating in the workshop could be contacted through the app. This lovely feature gave us the opportunity to get in touch with anyone we wanted, ask questions about research or ask them to join us for a coffee in the garden. The app got a lot of favourable feedback from the participants who pointed out how helpful it was to have the agenda and people bios so easily accessible.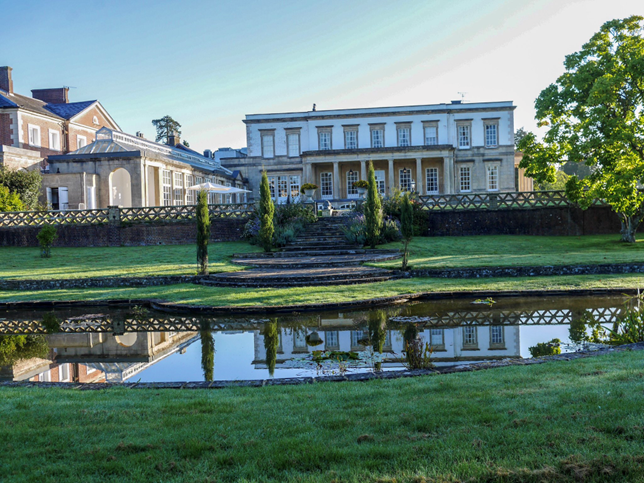 Of course, our Meetings team have been looking into venues that not only have the facilities needed to accommodate each type of event they organise, but they have also been searching for venues that take sustainability seriously. The Cell Size and Growth, From Single Cells to the Tree of Life Workshop took place in Buxted Park, East Sussex, UK. Apart from its dreamy location with two lakes and lots of bunnies running around, Buxted Park has a holistic approach to sustainability.
As part of the Handpicked Hotels Group, it has a five-principle framework of Corporate Social Responsibility Policy. The main focus is on reducing food miles while supporting local communities. Suppliers are checked regarding acting ethically in their sourcing and production of food, and there are no endangered fish species used in menus. Furthermore, there is a proper waste management system in place with separate recycling bins for different products, while during the Workshop the provided pens were made from 100% recycled plastic. We also had these cute bins in each room to help us with separating our waste, see below.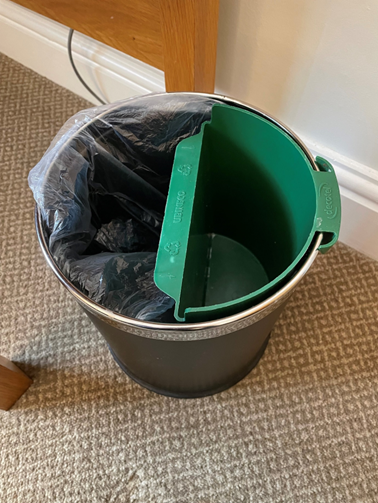 As we start going back to some of our previous habits our footprint is going to increase. We have to make sure that we are consciously choosing alternatives and making changes so that we do not reach the levels of environmental footprint we had in previous years. A big thank you to the organisers for such a Workshop filled with science and socialising.
If you have a vision to run a Workshop but don't have the time to arrange the logistics or raise the funding, then please contact us. We are seeking proposals for future Workshops and provide all necessary support. You can propose a new workshop for 2024. The deadline for Workshop proposals is Friday 29 July 2022.
Are you thinking about your event sustainability? To help finance innovative ideas that enable biologists to collaborate productively while minimising their impact on the environment we are offering Sustainable Conferencing Grants.
Visit our sustainability blogs for more tips.