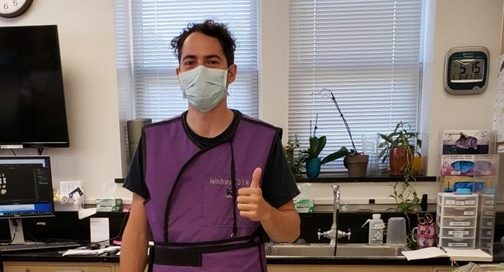 2 February 2022
Every time we eat, from hurried snacks to three-course meals, our oesophagus gets to work and delivers the food from our mouths to our stomachs. We usually take this process for granted, but have you ever wondered how it happens so smoothly?
Elijah Lowenstein, a PhD student in Professor Carmen Birchmeier's lab at Berlin's Max Delbrück Centre for Molecular Medicine, is particularly interested in the neurons that innervate our inner organs. During his doctoral studies, he characterised a subset of vagal neurons that form specialised mechanosensory endings in the oesophagus. He was able to report their transcriptomic identity, track their development, and complete a detailed histological analysis of their projections. However, he wanted to go further and study their role during swallowing in vivo.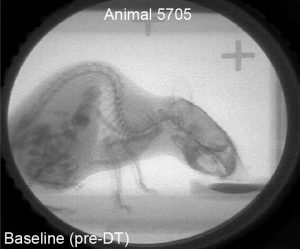 Across the Atlantic, Dr Teresa Lever and her research group had previously pioneered the study of oesophageal function and swallowing in mice using a technique called videofluoroscopy. This approach, which is most commonly used in clinics to examine human patients with swallowing issues, allows the mice to be monitored as they consume a contrast agent. The animals can move freely during the study and consume as much or as little of the agent as is desired.
This system was exactly what Elijah needed to study the role of the novel vagal neurons in living mice. His group established a collaboration with Dr Lever, and Elijah was awarded a Travelling Fellowship from Development, which funded his travel to the Lever lab at the University of Missouri School of Medicine in the USA. The grant also supported most of his living expenses during his stay in the city of Columbia.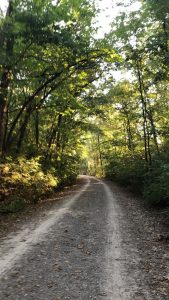 From the moment he arrived in Columbia, Elijah felt welcomed into the group. His first challenge was learning to use the videofluoroscopy system. He was assisted in this by Kate Osman, who Elijah says "[…] really went above and beyond in helping me collect the data I needed". Once the data were acquired, Rebecca Thompson was instrumental in training Elijah to analyse them. This collaborative spirit also extended to life outside the lab, with Kate and Rebecca showing Elijah around Columbia whenever they had the opportunity. Thanks to Dr Lever and her team, Elijah had a rich experience during his stay and explained that "[…] there was never a dull moment in the lab, and I look back on my time there fondly".
The visit was very successful and proved crucial for the completion of Elijah's doctorate. Using mice where he could ablate neurons of interest via administration of a toxin, he was able to compare how the mice swallowed before and after ablation. This confirmed that the neurons were of physiological significance and were essential for proper oesophageal function. Elijah is particularly grateful for the mentorship he received from Dr Lever during his visit, saying: "Her knowledge about swallowing physiology and oesophageal innervation was incredibly important for my PhD project. She also took the time (staying late and on the weekends) to make sure I really understood how to perform the videofluoroscopy experiments and analyse the resulting data. I hope to keep collaborating with her in the future!"