Cellular dynamics: membrane-cytoskeleton interface
Organisers: Michael Way, Elizabeth Chen, Margaret Gardel and Jennifer Lippincott-Schwartz
Date: 21 - 24 May 2017
Location: Southbridge Hotel & Conference Center, Massachusetts, USA
Cell biology in its broadest sense aims to understand how a cell, the basic unit of life, converts information stored within its genome into form and function in both space and time. This includes understanding not only the inner workings of individual cells but also how they react and respond to each other and their environment. To achieve this end is a formidable task, as the different systems and organelles of the cell comprise complex protein, lipid and nucleic acid assembles that are dynamic and interdependent. Moreover, these assemblies, which also have emergent properties that cannot be predicted from the list of parts, are dependent on both their chemical and physical properties. Our ability to tackle the complexity of the cell at all scales has benefited greatly from improved imaging and computational approaches, which allow quantitative analysis of the dynamics and interactions of molecules and cells. Recent technological advances in microscopy, including the ability to break the diffraction barrier, have also revolutionized our ability to interrogate cellular processes and cell activities at higher temporal and spatial resolution in environments of ever-increasing complexity.
The purpose of this meeting was to bring together a group of researchers studying the interface between membrane and cytoskeletal systems at different scales and  perspectives using a range of model systems – a unique approach that is intended to bring together frontline research in these areas, stimulating discussions across the disciplines and fostering collaborative links between researchers. This meeting reinforced some of the topics that are core to Journal of Cell Science.
Organisers & speakers
Anna Akhmanova
Utrecht University, The Netherlands
Daniel Billadeau
Mayo Clinic, USA
Anthony Bretscher
Cornell University, USA
Gaudenz Danuser
University of Texas Southwestern Medical Center, USA
Cara J Gottardi
Northwestern University Medical School, USA
Kathleen J Green
Northwestern University, USA
Erika Holzbaur
University of Pennsylvania, USA
Johanna Ivaska
University of Turku, Finland
Tomas Kirchhausen
Harvard Medical School, USA
Sophie Martin
University of Lausanne, Switzerland
Mark Peifer
University of North Carolina, USA
Jenny Russinova
VIB-UGent, Belgium
Erik Sahai
The Francis Crick Institute, UK
Giorgio Scita
IFOM Foundation & University of Milan, Italy
David Stephens
University of Bristol, UK
William Trimble
SickKids Research Institute, Canada
Kristen Verhey
University of Michigan, USA
Gia Voeltz
University of Colorado, USA
Kenneth M. Yamada
NIH/NIDCR, USA
Venue

Southbridge Hotel & Conference Center is located in the USA, minutes from Sturbridge and an hour's drive from Boston, Springfield, Hartford, CT, and Providence, RI.  The building was originally constructed as an optical factory and has been refurnished and remodelled into a superb conference centre.
Southbridge Hotel & Conference Center
14 Mechanic Street
Southbridge
MA 01550
USA
Tel: +1 508 765 8000
Registration packages 
The fees include;
Registration, meeting costs and delegate pack
3 nights' accommodation (Sunday to Wednesday) in an en-suite room with single occupancy
All meals (including lunch on Sunday to lunch on Wednesday), coffee breaks and evening reception drinks throughout the Meeting
Use of the leisure facilities at Southbridge Hotel & Conference Center
Social activity on the Monday evening
It is expected that all attendees will stay for the duration of the Meeting.
| | | |
| --- | --- | --- |
| | USD | GBP |
| Students/Postdocs | $995 | £795 |
| Academia | $1,195 | £955 |
| Industry | $1,400 | £1,120 |
The GBP rate may fluctuate depending on the exchange rate with the USD.
Transport options from local airports to Southbridge will be available shortly.
A limited number of day delegate places are available; please email meetings@biologists.com
for more information.
Meeting photo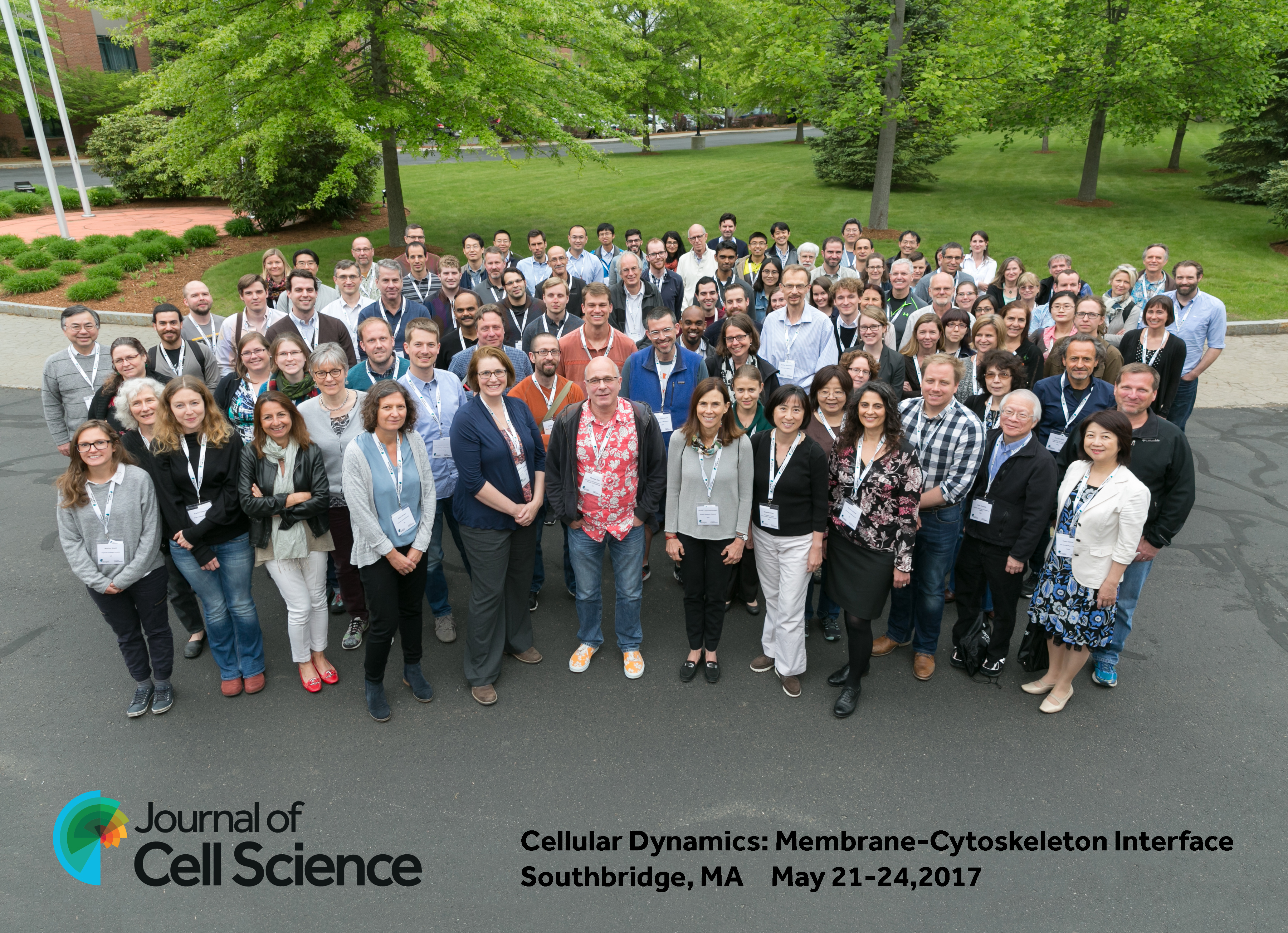 s
Meeting gallery
This slideshow requires JavaScript.
Cellular dynamics: membrane-cytoskeleton interface
21 – 24 May 2017
Southbridge Hotel, Southbridge, MA, USA