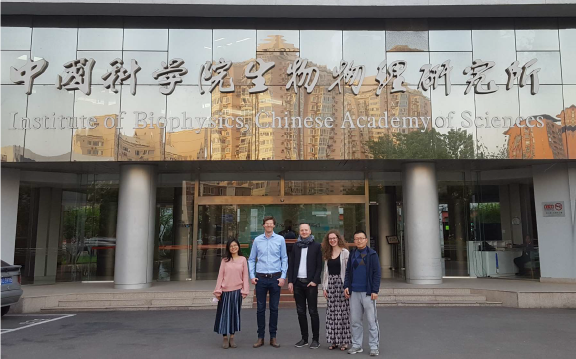 19 June 2019
The three-dimensional mechanical forces generated during the activation of T lymphocytes have been quantified at unprecedented spatiotemporal resolution. To do so, Postdoctoral Researcher Huw Colin-York from the Fritzsche Group, which studies Biophysical Immunology at the University of Oxford, travelled to the laboratory of Prof Dong Li at the Chinese Academy of Sciences, Institute of Biophysics, Beijing, courtesy of a Travelling Fellowship from the Journal of Cell Science.
The Li lab are world leaders in the development of super-resolution microscopy techniques, enabling Huw's team to quickly optimise sample preparation to maximize both the temporal and spatial resolution of traction force microscopy. Working closely together, their work – recently published in NanoLetters – demonstrated for the first time the ability of structured illumination microscopy to enhance the current state of the art in traction force microscopy.
Huw said "I found the visit to the laboratory of Prof Dong Li extremely rewarding and it is clear that the visit represented an important step in solidifying the collaboration between Prof Li's lab and the Fritzsche lab in Oxford. The Li lab continue the development of state-of-the-art microscopy techniques that will no doubt be key in uncovering the biophysical mechanisms that govern the immune response."
The successful experiments allowed Huw and team to move forward and process the data in collaboration with Emad Moeendarbary's group at UCL. Together they are working towards the preparation of a manuscript for journal submission.
For news and tweets from the group, you can follow @FritzscheLab