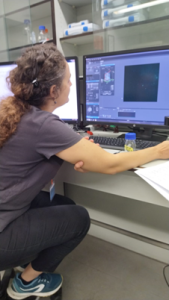 30 August 2023
To develop her own understanding of neural mapping, Federica Pizzulli, a PhD student from the Biology and Evolution of Marine Organisms Department of the Stazione Zoologica Anton Dohrn in Naples, used a Travelling Fellowship from Journal of Experimental Biology to visit the Seuntjens lab at KU Leuven, Belgium. The lab was the first to adapt in-situ Hybridization Chain Reaction (HCR) to Octopus vulgaris.
The Travelling Fellowship enabled Federica to gain an understanding of the procedures required to localise a neuromodulator molecular fingerprint in Octopus vulgaris' central nervous system. This is where Federica first experienced the use of HCR, a method which visualises the specific mRNAs inside neural tissues, the technique which the Seuntjens lab has extensively used in Octopus vulgaris embryos.
The Seuntjens lab's well-established HCR protocols enabled Federica to investigate the expression of genes associated with neurotransmitter synthesis and transport. The initial results were promising, as the experiments successfully localised genes in both embryonic and adult tissues. The streamlined protocols allowed for efficient visualisation of target molecules and imaging using confocal microscopy. This breakthrough enabled the identification of specific cell populations marked by neuromodulators, substances that, in conjunction with neurotransmitters amplify the excitatory or inhibitory effects of receptors. This process can occur without directly activating ion-channel receptors gating distinct regions of the Octopus vulgaris brain.
"HCR has become one of the most crucial experiments of my PhD" said Federica, Journal of Experimental Biology Travelling Fellowship recipient.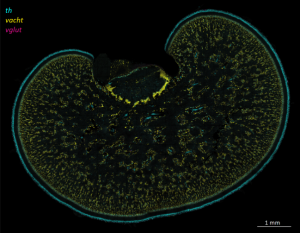 Federica's newfound ability to localise neuromodulators offered the potential to map these molecules within Octopus vulgaris neural circuits, contributing to the construction of an integrated, open-access map of the Octopus vulgaris neural system. Encouraged by her success during the Travelling Fellowship, Federica went on to plan and design new probes for localising other neuromodulators inside the Octopus vulgaris nervous system.
Overall, the Travelling Fellowship from Journal of Experimental Biology has provided an invaluable opportunity for Federica to acquire new skills, collaborate with fellow PhD students and contribute significantly to both her PhD project and personal growth. This immersive experience not only expanded her knowledge but has aided the development of innovative techniques that will continue to facilitate Federica's career path.