27 February 2023
The British Neuroscience Association (BNA) held their festive symposium, 'Have your mental health a merry little Christmas', in Edinburgh on 12 December 2022.

The meeting focused on how neuroscience can help improve our understanding of mental health disorders and brought together researchers working in industry, the clinic and academia. With the help of a Sustainable Conferencing Grant, the organisers were able to offer 'Train over Plane' travel grants. These grants reimbursed BNA members who chose to travel to the meeting by train, coach or carshare, rather than catching a plane.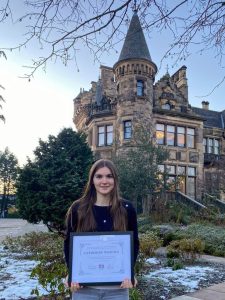 "This grant enabled me to take the train for my 400-mile journey from London to Edinburgh to attend the BNA festive symposium, where I was presented with the Undergraduate Prize," said travel grant recipient Catherine Whittle.
"The alternative modes of transport – flying or driving – are not sustainable options, and given the cost and time involved I would have been reluctant to attend the conference in person. I am very glad that I was able to attend as I had an amazing time learning about some of the exciting new therapies to treat mental health conditions, and particularly enjoyed talking to the other attendees about their fascinating work. I returned on the sleeper train which enabled me to get a good night's sleep and get back to the lab for 9am."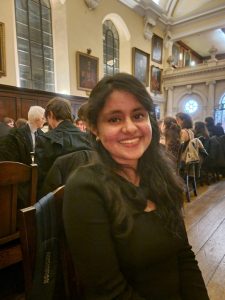 Spatika Jayaram travelled to the meeting from Oxford and was delighted that the BNA were taking steps to promote sustainable transport options.
"I was planning to attend the symposium since it had talks on mental health and drug targeting, featuring industry experts and academic professionals speaking on areas that are relevant to my work," Spatika explained.
"As an international student in Oxford, the grant was immensely helpful in covering my train fares to and from Edinburgh, which were considerably higher than the flight costs at the time."
"I also knew I'd prefer taking the train since the distance was not quite so large to necessitate a flight. The BNA symposium introduced me to many researchers working in my field, and I had a wonderful time, overall!"
Want to find out more about our Sustainable Conferencing Grants and how to apply for one? Visit our Grants page for more information.