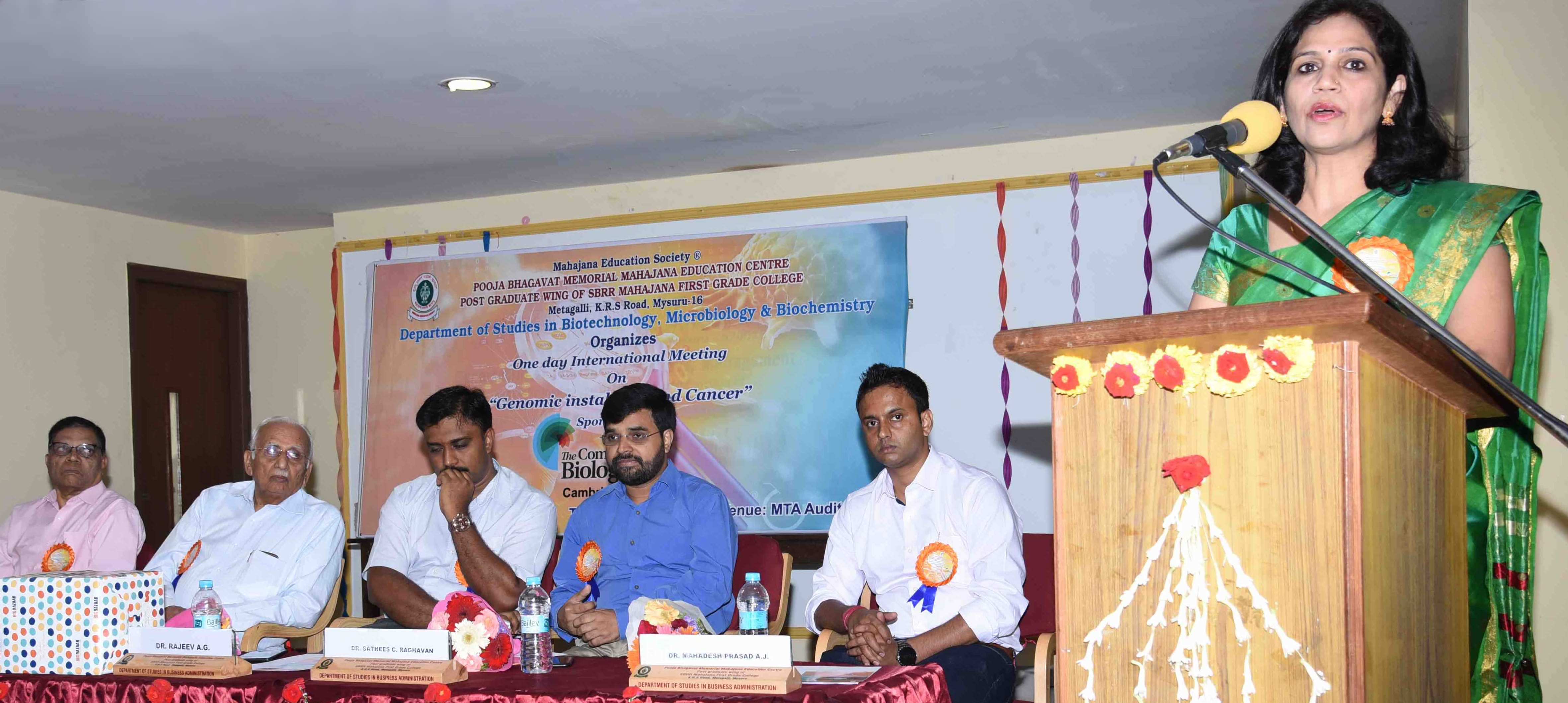 9 March 2018
The DNA in our cells is subject to daily damage from metabolic agents and environmental factors, but most of this damage is successfully repaired by natural systems throughout the cell cycle. However, accumulation of DNA damage due to failures in these natural repair systems is an important risk factor in cancer development. In October 2017 the Mahajana Education Society, based in Mysore, India, hosted a one-day conference on 'Genomic instability and cancer' at the Pooja Bhagavat Memorial Mahajana Education Centre. A Small Meeting Grant from The Company of Biologists allowed the organisers of this conference to bring together prominent cancer researchers and students from across Karnataka state to discuss recent research advances in DNA damage response and its implications in cancer formation.
At the heart of the conference were four technical sessions, each geared for a slightly different audience from graduate students to faculty members. The inaugural session on chromosomal translocation in cancer, with a focus on B–cell malignancies, shed light on different experimental aspects used to identify early-onset DNA damage. The second technical session on the general mechanisms of DNA damage response in different types of cancers was followed by a productive discussion between the speaker and students in the audience. The third session was focused on the principle of how diet can modulate DNA damage in cancer, and the day was rounded off with the final technical session covering DNA damage response in early haematopoietic B-cell development.
This multidisciplinary conference was a unique opportunity for cancer researchers and students interested in entering the field to be exposed to the latest advances in cancer biology. The conference was also a great platform for students, researchers and principal investigators from across Karnataka state to discuss mutual interests, opportunities for research positions and possible future collaborations.
If you would like to apply for a grant towards the cost of running a small meeting within the fields of our journals, find out more about our Small Meeting Grants.