15 October 2020
After the success of our Development Virtual Meeting 2020, 'From Stem Cells to Human Development', we've been thinking about how to get the most out of a virtual meeting.
Our Editors have attended a lot of virtual events over the last few months, and between them have a lot of useful advice. So, here are our five top tips for attending a virtual meeting.

Plan ahead
A full day of virtual talks can be exhausting, so find out which ones are recorded and available to watch later and which talks can only be watched live. Identify the sessions you are particularly keen to attend and have a look at the delegate list to see who will be attending.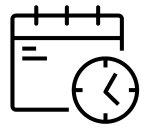 Schedule your time
Treat the event like a real in-person meeting and, if possible, block out your schedule to immerse yourself in the meeting from the very first introductory talk. Some delegates might be in different time zones, so consider this if you're planning to set up meetings.

Check your tech
Make a note of all the equipment you plan to use in case you need help from tech support. Invest in a good pair of headphones, and make sure your microphone works and that you have a stable wifi connection.
If you are giving a talk, why not ask the organisers if you can do a pre-recorded talk? This could save technical mishaps on the day.

Be prepared to engage
Come ready to interact with all elements of the event: ask questions, join Slack channels, contact speakers or attendees directly, follow hashtag on Twitter and attend any networking sessions on offer.
You never know where a new connection might come from, so challenge yourself to speak to new people whenever possible.

Provide feedback
Make notes throughout the event and take time to give detailed feedback. Everyone is learning at the moment and your experience can help organisers make the next event even better. Make suggestions based on your experience of other online events, too!