15 August 2023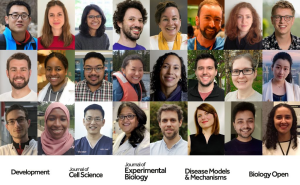 The Company of Biologists supports early-career researchers (ECRs) in several ways across all five of our journals and three community sites. First Person interviews help primary authors to showcase their recently published articles, helping ECRs boost engagement and exposure of their work. A Year at the Forefront Reviews provide ECRs with an early opportunity to publish a review for free, helping them to boost their career prospects. Grants such as Travelling Fellowships enable ECRs to visit different labs around the world which specialise in many niche areas of scientific research.
This year, we are excited to announce a range of initiatives to support ECRs within our growing community. At the end of 2022, we proudly launched the correspondent programmes for the Node and FocalPlane, welcoming outstanding individuals as our correspondents for 2023.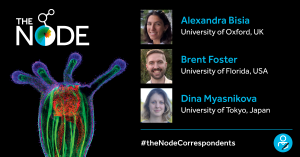 For the Node, we have appointed Alexandra Bisia, Brent Foster and Dina Myasnikova, who will share their insights and expertise through six blog posts throughout the year. On FocalPlane, we are excited to have Mariana De Niz, Marta Forcella and Mai Rahmoon as our correspondents, enriching the platform with their unique perspectives.
"This is a great opportunity to look at something outside of my direct area of research. The ideas that I've come up with so far include non-model organisms and recent breakthroughs in the medical sciences. As a developmental biologist by training, this will be a unique chance to reach out to people that I normally wouldn't get to meet," said the Node correspondent Alexandra Bisia – Read the full interview with the Node here.

"I would like to write about projects and devices aimed at democratising microscopy, for example, the impact of FoldScope, ZeroCost, Microscopia Para Todos, and other similar projects that aim at bringing microscopy to everyone, truly everyone," said FocalPlane correspondent, Mariana De Niz – Read the full interview with FocalPlane here.
To further enhance the preLights community platform, we have introduced the preLights ambassador scheme, establishing network 'hubs' to foster collaboration and knowledge sharing.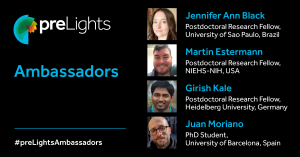 Our preLight ambassadors, Jennifer Ann Black, Martin Estermann, Girish Kale and Juan Moriano, will drive new initiatives, including a mentorship programme, institution-level preprint clubs and a captivating scientific figure and illustration workshop.
"As a preLights ambassador, my main goal is to channel the motivation, ideas and suggestions our preLighters into concrete plans and actions," said preLights Ambassador, Juan Moriano – Read the full interview with preLights here.
As we place great emphasis on skill development, we are organising a series of tailored workshops for our correspondents and preLights ambassadors. Kathryn Knight, Journal of Experimental Biology's News and Views Editor, led the first workshop on crafting engaging content about research. Kathryn shared her thoughts upon the experience:
"As a science communicator, I am passionate about breaking down the barriers between scientists and the public. I can think of no better way of doing that than teaching the next generation of PIs how to relate their research to a non-scientific audience. It was great listening to the questions from the ECRs at the end of the session, listening to their ideas and providing guidance. I wish them all the best for the future," said Kathryn.
We are open to new workshop ideas from our community members. Feel free to share your suggestions with our dedicated Community Managers. By empowering ECRs with enhanced writing skills, communication strategies and networking opportunities, we aim to nurture the next generation of leaders in biology.
Stay tuned to the Node, preLights and FocalPlane websites for exciting updates from our correspondents and preLight ambassadors. Join us in celebrating and supporting our thriving community of ECRs.