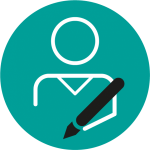 3 October 2022
Enthusiastic about science communication and looking for a chance to broaden your writing experience? The Node and FocalPlane are looking to appoint six correspondents who will volunteer to develop and write content for our community sites over the coming year.
Our correspondents will have the chance to engage with fellow researchers and scicomm enthusiasts, working together as a small cohort to plan and write fresh content. They will also gain insight into the publishing industry through regular meetings with our in-house teams, and receive regular feedback on their writing.
Applications are open until 31 October 2022, and you can find out more by visiting the Node and FocalPlane.