24 July 2023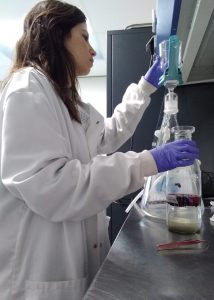 Plastic leachates are chemicals that migrate from plastics to the surrounding aquatic environment composed by mixtures of additives. These chemicals form a solution of organic and inorganic pollutants which represent a serious problem to the environment, as they can induce toxicity in both diatom and copepod populations at the base of the food chain. Rocío Soledad Pazos, a postdoc from National University of La Plata, used a Travelling Fellowship from Journal of Experimental Biology to visit the Flanders Marine Institute (VLIZ) in Ostend, Belgium – here she was able to investigate the impact of leachates on the environment.
Rocío was studying microplastic distribution on the coast of the Río de la Plata estuary during her PhD programme and reflects upon the many benefits the Travelling Fellowship provided during her studies.
Rocío's project at VLIZ aimed to analyse the effects of pristine and environmental plastic leachates of different polymeric compositions on the copepod Nitokra spinipes and diatom Phaeodactylum tricornutum. During her time in Ostend, Rocío had the opportunity to engage with other PhD students, postdocs and researchers working alongside her in the Research Division Ocean and Human Health group.
"Working alongside fellow scientists in this unique field of study was very useful and I learnt a lot from my peers", she said.
Throughout the three-month stay, Rocío learnt how to implement standardised protocols for assessing toxicity caused by leachate samples composed of different amounts of Polyvinyl Chloride (PVC), polyethylene (PE), and polypropylene (PP). These included assessing mortality and immobilisation levels amongst the N. spinipes population and evaluating any effects on growth rate in P. tricornutum.
The Travelling Fellowship also enabled Rocío to use attenuated total reflectance Fourier transform infrared spectroscopy (ATR-FTIR). This technique was used to characterise the plastics polymers and investigate the level of polymer degradation of environmental items inside the different leachate samples, which were collected from different coastal areas from Belgium and Argentina. Rocío's new understanding and implementation of this technique was useful as the method could be used by her once returning to her postdoc studies back in La Plata.
"Because of abundance of these plastic debris, it was interesting to focus on the leaching of such particles", Rocío added.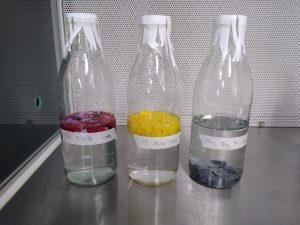 The results from Rocío's Travelling Fellowship have shown that there were no effects of pristine PVC leachates on the organisms tested. In the case of environmental PVC, PE and PP leachates, no effects were observed on P. tricornutum. However, there were effects on N. spinipes, including a 32% rate of mortality after 24 hours caused by leachates from PVC. These findings can be used by Rocío in the future to assess the combined effect of salinity and leachates of different polymers from environmental stranded plastics.
"Leachates should be considered as a group of pollutants with diverse chemical characteristics", Rocío concluded.