*MEETING CANCELLED*
Owing to the ongoing COVID-19 pandemic, we have made the difficult decision to cancel the JEB 2022 Symposium. This is in response to delegate welfare concerns regarding safety, travel restrictions and quarantines.
We are exploring options to reschedule the symposium for a future year.
Journal of Experimental Biology Symposium 2022
Integrating Biomechanics, Energetics and Ecology in Locomotion
Organisers: Andrew Biewener, Alan Wilson
Date: 13-17 March 2022
Location: Hotel Eiger, Mürren, Switzerland
The integration of biomechanics and energetics is challenging for all forms of locomotion, especially in the context of free-ranging movement in the natural environment. Traditionally, biomechanists focus on mechanics, physiologists on energy – usually in a laboratory context – and ecologists on field measurements, often using proxies of movement and energy use, such as accelerometry, because direct measurements in the field are often not feasible. Greater integration would improve the biological and scientific relevance of both field and laboratory measurements, while a shared conceptual framework would enable better experimental data and information flow at the interface of the disciplines.
The aim of this symposium is to promote cross-disciplinary understanding and establish a common framework for studies that link energy consumption, muscle function and locomotor mechanics in terrestrial, aerial and aquatic locomotion. The meeting will bring together key innovators working across the traditional boundaries of biomechanics, ecology and physiology to examine multidisciplinary approaches for investigating how animals use energy to power movement.
Organisers & speakers
Douglas Altshuler The University of British Columbia, Canada
Alexander Badri-Sprowitz Max Planck Institute for Intelligent Sytsems, Germany
John Bertram University of Calgary, Canada
Vincent Careau University of Ottawa, Canada
John Dabiri California Institute of Technology, USA
Valentina Di Santo Stockholm University, Sweden
Lucy Hawkes University of Exeter, UK
Anders Hedenström Lund University, Sweden
Robyn Hetem University of The Witwatersrand, South Africa
Timothy Higham University of California, Riverside, USA
Natalie Holt University of California, Riverside, USA
Mimi Koehl University of California, Berkeley, USA
James Liao University of Florida, USA
Glen Lichtwark The University of Queensland, Australia
Herman Pontzer Duke University, USA
Gregory Sawicki Georgia Tech, USA
Emily Shepard Swansea University, UK
Terrie Williams University of California, Santa Cruz, USA
Alan Wilson The Royal Veterinary College, UK
Programme
The symposium is open to invited speakers and delegates only.
However, all presentations will be published as a special issue of Journal of Experimental Biology in early 2023.
Venue

The Symposium will be held in the Hotel Eiger in the charming Swiss village of Mürren, which is easily accessible by train from international airports at Zürich, Bern, Basel and Geneva. As the highest altitude ski resort in the Bernese Oberland, car-free Mürren is perched on a high terrace facing the famous Eiger, Mönch and Jungfrau mountains.
Hotel Eiger Mürren
Aegerten
3825 Mürren
Switzerland
Tel: +41 33 856 54 54
Fax: +41 33 856 54 56
E-Mail: info@hoteleiger.com
Website: www.hoteleiger.com/en/
Travel
Mürren is 154 km/96 miles from Zürich. Travel time from Zürich airport is approximately 2.5 hours by car and 3.5 hours by train. The resort is 231 km/144 miles from Geneva and 72 km/45 miles from Bern.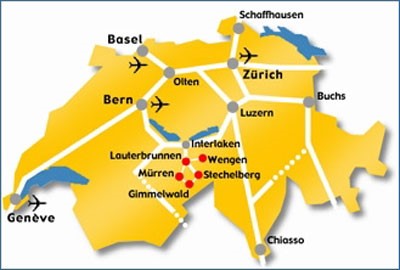 Mürren is located in the Bernese Oberland. It is a car-free mountain resort on a rock ledge at 1650 m altitude, reachable either via Lauterbrunnen (cable car + tram) or via Stechelberg (two cable cars).
Public transport in Switzerland is well-known for its reliability and is the easiest way to get to car-free Mürren.