Journal of Experimental Biology Symposium 2016:
Evolution of Social Behaviour
Organisers: Joel Levine, Daniel Kronauer and Michael Dickinson
Date: 20-24 March 2016
Location: Eiger Hotel, Mürren, Switzerland
One of the great challenges in modern biology is to understand how the social behaviours of animals arise through a combination of genetic and environmental factors and how they are implemented by mechanisms of neural and endocrine control. Recent innovations in a wide variety of subfields from molecular techniques to machine vision make it possible to perform comparative studies on genomes and behaviours. These new approaches suggest novel ways for researchers to bridge gaps between the laboratory and more naturalistic habitats as well as in a broad range of taxa.
The purpose of this symposium is to bring together researchers who do not ordinarily interact. The goal is to create a common framework for analyzing problems so that evolutionary themes of social structure and dynamics can be identified and studied in a comparative manner. This symposium brings together a diverse array of researchers working on this topic from different perspectives and with different model systems.
Organisers & Speakers
Karen Bales University of California, Davis, USA
Kristin Branson Janelia Research Campus, USA
Iain Couzin Max Planck Institute for Ornithology, Germany
Ofer Feinerman Weizmann Institute, Israel
Russell Fernald Stanford University, USA
Laurent Keller University of Lausanne, Switzerland
Harmit Singh Malik Fred Hutchinson Research Center, USA
Kenji Matsuura Kyoto University, Japan
Lauren O'Connell Harvard University, USA
Solenn Patalano Babraham Institute, UK
Pavan Ramdya California Institute of Technology, USA
Jonathan Schneider University of Toronto, Canada
Corina Tarnita Princeton University, USA
Ofer Tchernichovski Hunter College, USA
Guy Theraulaz CNRS, France
Gregory Velicer ETH Zurich, Switzerland
Programme
The symposium is open to invited speakers and delegates only. However, all presentations will be published as a special issue of Journal of Experimental Biology in early 2017.
Venue

The Symposium will be held in the Hotel Eiger in the charming Swiss village of Mürren, which is approximately 3 hours by car and 4.5 hours by train from Zurich. As the highest altitude ski resort in the Bernese Oberland, car-free Mürren faces a series of giant peaks carved out of rock or ice: from left to right, the view encompasses the Eiger, the Mönch, the Jungfrau, the Breithorn and the Gspaltenhorn range.
Hotel Eiger Mürren
Aegerten
3825 Mürren
Switzerland
Tel: +41 33 856 54 54
Fax: +41 33 856 54 56
E-Mail: info@hoteleiger.com
Website: www.hoteleiger.com/en/
Travel
Mürren is located in the Bernese Oberland. It is a car-free mountain resort on a rock ledge at 1670 m altitude, reachable either via Lauterbrunnen (cable car + tram) or via Stechelberg (cable car).  Late night service is via Stechelberg only. For late train travellers there is a bus service.
Mürren is 154 km/96 miles from Zürich. Travel time from Zürich is 3 hours by car and 3.5 hours by train. The resort is 231 km/144 miles from Geneva and 72 km/45 miles from Bern.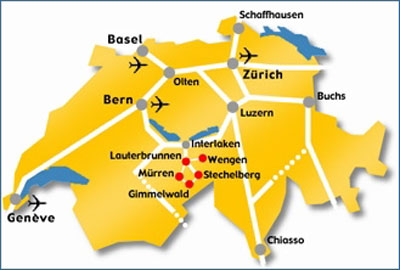 Public transport in Switzerland is well-known for its reliability and is the easiest way to get to car-free Mürren. Further information can be found at the Swiss Travel System.
By air
Zürich (ZRH) is the largest airport in Switzerland, with the most scheduled flights. You can also get international flights to Bern (BRN), Basel (MLH) and Geneva (GVA). Zürich and Geneva have good rail connections from within the airport and we advise you to use the rail system to get to Mürren (see below).
By rail
The Swiss Federal Railway (SBB) has an excellent online timetable and you can plan your route and pre-purchase your tickets online. A variety of ticket offers is available and may provide savings if you are sightseeing around Switzerland as well as coming to the symposium. Alternatively, you can buy a return ticket to Mürren BLM at the ticket counter or the ticket machines in the airport. A second-class return ticket from Zürich airport (Flughafen) to Mürren BLM via the route below is currently approximately CHF 175 online.
From the airport, take international train connections to Interlaken Ost (some trains from Zürich also require you to change at Bern before reaching Interlarken). At Interlarken Ost, change to the Bernese Oberland Railway (BOB) to Lauterbrunnen. From Lauterbrunnen, take the mountain railway (BLM) direct to Mürren. The BLM station is directly opposite the hotel.
Before booking your flights, please check the times on the Swiss Federal Railway website for the last train to Mürren from your chosen airport.
For return journeys, you can use the flyrail service and check-in your luggage at the station in Mürren the day before your flight. At the same time, you'll also receive your boarding card, complete with seat assignment.
By road
If you are driving to the venue, you will need to park your car in Lauterbrunnen and take the mountain railway (BLM) to car-free Mürren. Train timetables and online booking are available at the Swiss Federal Railway website. The multi-storey car park in Lauterbrunnen is connected internally with the BLM, and parking can be reserved up to five days in advance (click here for details). Alternatively, you can take the Schilthornbahn (LSMS) from Stechelberg to Mürren.
Social event – Tuesday 22 March
In the traditional sense of an academic meeting, we have reserved the afternoon of Tuesday 22 March for social activities.
Making the most of the splendour of the Swiss Alps – and depending on weather conditions on the day! – you will have a choice of activities.
For the more adventurous, there will be an opportunity to ski (for both beginners and experienced skiers) or to take a guided 'snowshoe walk' in the mountains. Alternatively, you may prefer a more leisurely stroll to the nearby village of Gruetschalp.
In the evening, we will take the 'Allmendhubelbahn' (cable railway) up the mountain and walk/sledge to a rural alpine hut (Suppenalp), where we will have drinks and dinner (traditional Swiss fondue), followed by a moonlit sledge-ride back down the mountain to the hotel (alternative transport will be arranged for anyone not wishing to walk or sledge).
This slideshow requires JavaScript.
Insurance
Please note that participation in any part of the social event is entirely at your own risk, and Journal of Experimental Biology and The Company of Biologists accept no responsibility for any accidents. If you are intending to participate in the social event or to ski or skate at other times during the symposium, please ensure that you have obtained appropriate travel insurance (for skiing, this normally requires an increased level of insurance and should include piste rescue and medical cover).
Accompanying persons
Spouses/domestic partners are welcome to accompany invited delegates to the meeting. To cover the costs of the accommodation, catering and social event, the registration fee will be CHF 690 (Swiss Francs). The fee assumes two people sharing a double room and that accompanying persons will NOT attend the scientific sessions.
Registration fee (CHF 690) for accompanying persons includes:
Accommodation for four nights (20-23 March)
Welcome Reception on 20 March
Breakfast on 21-24 March
Lunch on 21-23 March
Dinner on 20-22 March
Conference Dinner on 23 March
Social event on 22 March
The registration fee is payable direct to the Hotel Eiger reception on check-out.
To register an accompanying person, please email us as soon as possible, and by Friday 15 January 2016 at the latest .