Read & Publish agreement with IReL
Researchers at nine institutions in Ireland can publish an unlimited number of Open Access research articles in leading biological science journals, immediately and at no cost to them, following a three-year Read & Publish agreement between The Company of Biologists and IReL.
The agreement also covers the Higher Education Authority and Science Foundation Ireland.
IReL is an Irish e-resource licensing consortium, which has been providing online access to journals and databases for libraries in participating publicly funded Irish higher education institutions since 2004. IReL is based in Maynooth University.
The cost-neutral agreement, which runs from 1 January 2020 to 31 December 2022, also enables faculty and students at participating institutions to benefit from unlimited access to all articles published in Development, Journal of Cell Science and Journal of Experimental Biology.
Jack Hyland, IReL Manager, said:
"IReL is delighted to sign an agreement with The Company of Biologists. It provides our corresponding authors with immediate Open Access publishing without them needing to pay article processing charges. The agreement also enables students and researchers to have access to additional journals previously unavailable to them."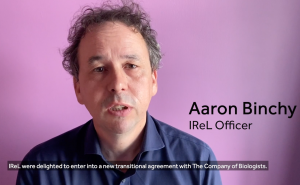 Institutions from across Ireland are participating in the agreement:
Dublin City University
Higher Education Authority
Maynooth University
Royal College of Surgeons in Ireland
Science Foundation Ireland
Technological University Dublin
Trinity College Dublin
University College Cork
University College Dublin
University of Galway
University of Limerick
Any questions? Contact us