What do librarians say?
Dr. Katrin Seyler, Central Library, FAU Erlangen-Nürnberg, Germany:
On behalf of our researchers, FAU is delighted to be the latest research institution to join The Company of Biologists' Publish & Read Initiative.

As one of the major contributors to the Open Access transformation in Germany we are pleased to enter an agreement with The Company of Biologists that reflects the underlying values of the Open Access movement and increases the reach of our authors' vital work in the fields of biology, molecular pediatrics and animal physiology amongst others.

We are looking forward to an ongoing collaboration with The Company of Biologists in line with our commitment to work towards opening up international research communication.
Ellen Dubinsky, Scholarly Communication Librarian, University of Arizona, USA:
We look forward to working with The Company of Biologists to help speed the transition of their hybrid journals to fully open access publications. The University of Arizona Libraries supports not only increasing the open access publication options of our university community but also accelerating the long-term transformation of the scholarly publication ecosystem.
Winnie Schats, Senior Officer, Scientific Information Service, Netherlands Cancer Institute, Netherlands:
The Netherlands Cancer Institute Scientific Information Service is very pleased to provide their patrons with an opportunity to publish Open Access in this first Read & Publish Agreement.
Dr. Roland Wagner, Open Access Officer, Goethe University Frankfurt, Germany:
We see transformative agreements as cost-effective steps towards the goal of achieving 100% Open Access to all scholarly publications.
Brendan Dalton, Chief Information and Data Officer, CSIRO, Australia:
CSIRO is looking forward to working with The Company of Biologists on the Read & Publish agreement. We're committed to enabling Open Access to our research outputs. This is in line with our strategic direction to enter into transformative agreements with relevant scientific publishers enabling us to share our research effectively and equitably.
Kyle Brady, Scholarly Communications Manager, Digital Research, Research and Innovation Services, University of St Andrews, UK:
At the University of St Andrews we have long supported Open Access to research publications, and in recent years a large part of that support involves signing up to innovative and transitional open access deals which meet the needs of our researchers and the wider community.

By signing up to The Company of Biologists' Read and Publish deal we are now able to increase the quantity of OA articles authored by our researchers in the biological sciences, and at the same time reduce the admin burden by simplifying the OA ordering process.
Rachelle M. McLain, Collection Development Librarian, Montana State University, USA:
MSU Library's Read & Publish agreement with The Company of Biologists will further advance open access research and scholarship at MSU. This is important because it means the work of MSU-affiliated authors who are publishing in their journals will be available to a larger audience because it is not behind the barrier of an online paywall.
What do library consortia say?
Ralf Schimmer, Head of Information Provision, Max Planck Digital Library:
We are very pleased to implement this new agreement with The Company of Biologists, and salute their willingness to test new economic models that are repurposing previous subscription fees to facilitate a sustainable and cost-neutral transition of their journals to an Open Access publishing model.This agreement marks a further, significant step in the Max Planck Society's strategy to enable open dissemination of research, in line with the principles of the OA2020 Initiative and the Berlin Declaration on Open Access.
Find out more about our Read & Publish agreement with the Max Planck Digital Library
Kathryn Spiller, formerly Licensing Manager, Jisc, UK:
The Company of Biologists is one of a small group of not-for-profit publishers who are working hard to push the Open Access agenda forward. Their new Read & Publish open access initiative is an important step in their OA journey, and we were delighted to be the first national library consortium to negotiate an agreement.

The Jisc agreement also enables institutions that have not previously subscribed to any of The Company of Biologists' journals to benefit from an exceptionally cost-effective rate for read and publish access for their researchers.

We are very pleased with the take-up of the agreement so far, and look forward to working with The Company of Biologists to increase participation even further.
Find out more about our Read & Publish agreement with Jisc
Jack Hyland, IReL Manager, Ireland:
IReL is delighted to sign an agreement with The Company of Biologists. It provides our corresponding authors with immediate Open Access publishing without them needing to pay article processing charges. The agreement also enables students and researchers to have access to additional journals previously unavailable to them.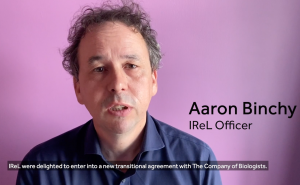 Find out more about our Read & Publish agreement with IReL and hear IReL Officer Aaron Binchy talk about the agreement in this short video. 
Dr. Sigal Lahav Scher, Director, MALMAD, Israel:
We are excited to reach our first Read and Publish agreement with The Company of Biologists, offering an affordable framework for Israel's universities. This is a significant step in our efforts to accelerate full and immediate open access through transformative agreements as cost effectively as possible.
Find out more about our Read & Publish agreement with Malmad