About The Company of Biologists
The Company of Biologists is a not-for-profit publishing organisation dedicated to supporting and inspiring the biological community.
We are run by distinguished practising scientists. We exist to profit science, not shareholders. We inspire new thinking and support the community of biologists.
The focus of our activities is:
publishing leading peer-reviewed journals
facilitating scientific meetings and communities
providing travel grants for young researchers
supporting and funding research societies
Apply for a Grant or Travelling Fellowship
The Company of Biologists uses the surplus it generates for the benefit of biology and the biological community. We support through grant funding:
Meetings, Workshops and conferences – both large and small – in the fields covered by our journals around the world.
Scientific societies. Three of the societies we fund use part of our funding to provide travel grants to support early career scientists who wish to attend conferences.
Travelling Fellowships to graduate students and post-doctoral researchers wishing to make collaborative visits to other laboratories.

A tribute to Professor Simon Maddrell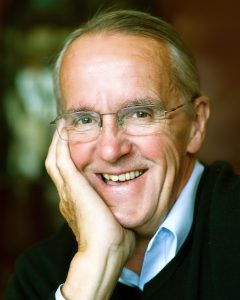 Professor Simon Maddrell's distinguished career has long been intertwined with the history of The Company of Biologists. It is with great sadness that we learned of his death in September.
Simon's lifelong career on insect physiology began as a PhD student under Sir Vincent Wigglesworth, who was then the Editor-in-Chief of Journal of Experimental Biology (JEB). In addition to the two papers from his PhD thesis that were published in Nature, he also published one of his thesis papers in JEB in 1963. Simon continued to make the journal his first port of call for many of his papers.
Simon was appointed The Company of Biologists treasurer in 1965, increasing the Company's staff count to two. With his financial acumen and eye for opportunities, the Company soon began to evolve. In a brave move, Simon and Richard Skaer (the Company Secretary) cancelled the publishing contract with Cambridge University Press (CUP), hired typesetters who set up operations in a house purchased in Cambridge and appointed Pinders to print the journals. As the number of staff expanded, Directors approved Simon's recommendation to purchase a warehouse that could accommodate printing presses, thereby making the Company fully independent. There were many lessons to be learnt in those early years, but Simon took it all in his stride, resolving issues whilst strategising how a situation might be turned to the Company's advantage. The small annual cheque from CUP for commission on the sale of our journals was quickly replaced with a healthy annual surplus.
As those surpluses built, Simon's skill at investing on the stock exchange became apparent. He managed the company's portfolio for a number of decades, increasing its value by some 18% compound growth. In 2011 Simon was appointed to the Board of Directors and the portfolio was handed over to an Investment Management Company under Simon's careful eye. He took great delight in tracking their performance on each investment move they made, holding them to account with his usual good humour.
We have lost an extraordinary talent, an exceptional researcher, colleague and director and he will be sorely missed by all at The Company of Biologists. We offer our sincere condolences to Simon's family and friends.
Read Simon's obituary, published in Journal of Experimental Biology, and learn about the breadth of his scientific contribution in a Special Issue dedicated entirely to his work.