Transdifferentiation and tissue plasticity in cardiovascular rejuvenation
Organisers: Brian Black and James Martin
Date: 7th – 10th February 2016
Location: Wiston House, Steyning, West Sussex, UK
The mammalian heart has historically been considered to be a static, non-regenerative organ. New research has led to exciting insights into the capacity of the mammalian heart to regenerate in the face of injury. Current evidence suggests that the reparative process may involve cellular transdifferentiation and dedifferentiation, suggesting unexpected cellular plasticity.  Re-activation of developmental programs also holds promise for regeneration and reprogramming as possible mechanisms for regeneration and repair.  Additionally, exciting advances in bioengineering have established that scaffolds, patches, and other bioengineered materials can be leveraged to induce or improve endogenous repair mechanisms and improve outcomes in damaged myocardium.
Specific goals of the conference will include discussions of:
1) mechanisms of cellular transdifferentiation and dedifferentiation
2) genetic mechanisms underlying tissue plasticity
3) epigenetic modifications that promote plasticity/regeneration)
4) lessons from developmental biology for developing strategies to promote regeneration and transdifferentiation, and
5) incorporation of biomaterials to accelerate and improve cardiac repair and tissue engineering.
This workshop will bring together experts in heart development, regeneration and bioengineering. This proposed conference aims to provide insight into heart regeneration, develop new directions for investigation and forge new collaborations and interactions across multiple disciplines. Sufficient time for discussion and informal interactions will be provided.
The Company of Biologists' Workshops only take place three times per year, on topics that are driving forward the progress of life sciences and biomedical research. The meetings are small and intensive, taking place over 3 days with 20 invited participants, all of whom we ask to make a presentation, and a further 10 chosen from submitted applications (students and postdocs as well as junior PIs). A condition of attendance is that you are present for the full meeting, from Sunday lunchtime through to Wednesday lunchtime.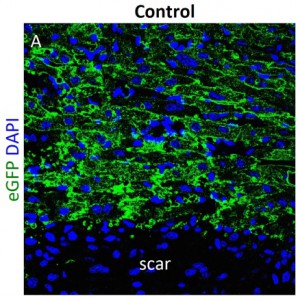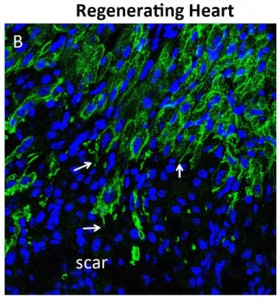 Apex resection was performed on control (A) and Hippo mutant (B) hearts at non-regenerative stages. Hearts were collected four days after resection and immunohistochemistry against GFP (marks heart muscle) was performed. Arrows show cytoskeletal changes in regenerating heart muscle. Image courtesy of Yuka Morikawa.
Organisers & Speakers
Brian Black  University of California, San Francisco, USA
James Martin  Baylor College of Medicine, USA
Antonio Beltrami  University of Udine, Italy
Benoit Bruneau  Gladstone Institute of Cardiovascular Disease, USA
Nenad Bursac  Duke University, USA
Richard Harvey  Victor Chang Cardiac Research Institute, Australia
Nadia Mercader University Bern, Switzerland
Alessandra Moretti Technical University Munich, Germany
Eric Olson  UT Southwestern Medical Center, USA
Ken Poss  Duke University, USA
Paul Riley  University of Oxford, UK
Elizabeth Robertson  University of Oxford, UK
Nadia Rosenthal  The Jackson Laboratory, USA
Michael Schneider  Imperial College London, UK
Deepak Srivastava  Gladstone Institute of Cardiovascular Disease, USA
Didier Stainier  MPI for Heart and Lung Research, Germany
Molly Stevens  Imperial College, UK
Eldad Tzahor  Weizmann Institute of Science, Israel
Karina Yaniv  Weizmann Institute of Science, Israel
Workshop Photo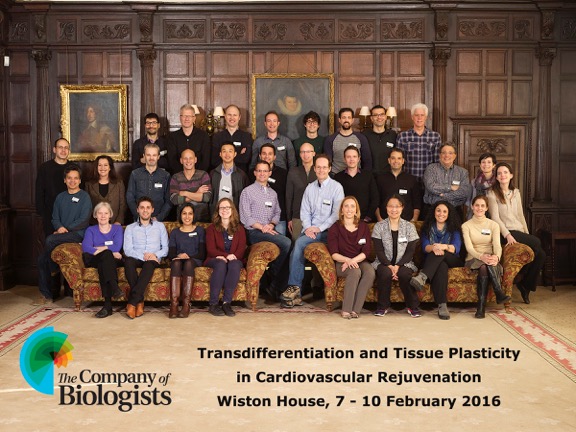 Slideshow
This slideshow requires JavaScript.
Transdifferentiation and Tissue Plasticity in Cardiovascular Rejuvenation
 7th – 10th February 2016
Wiston House, Steyning, West Sussex, UK
About Wiston House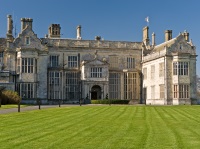 The Workshops will be held at the beautiful Wiston House, which is a 16th Century Grade I listed building located at the foot of the South Downs in West Sussex. The House is surrounded by over 6,000 acres of parkland with magnificent views from the mile-long drive.
Wiston House is one of the world's leading centres for the discussion of key international policy issues. It was created in 1946 to help re-establish peace and democracy in Europe as part of an initiative inspired by Winston Churchill. Wiston House has an amazing history and appears in the Domesday Book, the register of English possessions made by William the Conqueror in 1086, 20 years after he won the Battle of Hastings.
Wiston House is 32 miles from Gatwick Airport and 60 miles from Heathrow Airport. The nearest train station is Shoreham-by-Sea, which is a 20 minute taxi ride from Wiston House and takes 1 hour 10 minutes from London Victoria.
Wiston House
Steyning Road
Steyning
West Sussex
BN44 3DZ
Tel: +44 (0) 1903 815020
www.wistonhouse.co.uk