Transdifferentiation and tissue plasticity in cardiovascular rejuvenation
Organisers: Brian Black and James Martin
Date: 7th – 10th February 2016
Location: Wiston House, Steyning, West Sussex, UK
The mammalian heart has historically been considered to be a static, non-regenerative organ. New research has led to exciting insights into the capacity of the mammalian heart to regenerate in the face of injury. The current evidence in 2016 suggested that the reparative process may involve cellular transdifferentiation and dedifferentiation, suggesting unexpected cellular plasticity.  Re-activation of developmental programs also holds promise for regeneration and reprogramming as possible mechanisms for regeneration and repair.  Additionally, exciting advances in bioengineering have established that scaffolds, patches, and other bioengineered materials can be leveraged to induce or improve endogenous repair mechanisms and improve outcomes in damaged myocardium.
Specific goals of the conference included discussions of:
1) mechanisms of cellular transdifferentiation and dedifferentiation
2) genetic mechanisms underlying tissue plasticity
3) epigenetic modifications that promote plasticity/regeneration)
4) lessons from developmental biology for developing strategies to promote regeneration and transdifferentiation, and
5) incorporation of biomaterials to accelerate and improve cardiac repair and tissue engineering.
The workshop brought together experts in heart development, regeneration and bioengineering, and aimed to provide insight into heart regeneration, develop new directions for investigation and forge new collaborations and interactions across multiple disciplines.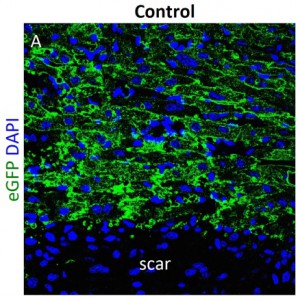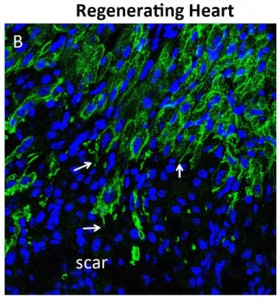 Apex resection was performed on control (A) and Hippo mutant (B) hearts at non-regenerative stages. Hearts were collected four days after resection and immunohistochemistry against GFP (marks heart muscle) was performed. Arrows show cytoskeletal changes in regenerating heart muscle. Image courtesy of Yuka Morikawa.
Organisers & Speakers
Brian Black  University of California, San Francisco, USA
James Martin  Baylor College of Medicine, USA
Antonio Beltrami  University of Udine, Italy
Benoit Bruneau  Gladstone Institute of Cardiovascular Disease, USA
Nenad Bursac  Duke University, USA
Richard Harvey  Victor Chang Cardiac Research Institute, Australia
Nadia Mercader University Bern, Switzerland
Alessandra Moretti Technical University Munich, Germany
Eric Olson  UT Southwestern Medical Center, USA
Ken Poss  Duke University, USA
Paul Riley  University of Oxford, UK
Elizabeth Robertson  University of Oxford, UK
Nadia Rosenthal  The Jackson Laboratory, USA
Michael Schneider  Imperial College London, UK
Deepak Srivastava  Gladstone Institute of Cardiovascular Disease, USA
Didier Stainier  MPI for Heart and Lung Research, Germany
Molly Stevens  Imperial College, UK
Eldad Tzahor  Weizmann Institute of Science, Israel
Karina Yaniv  Weizmann Institute of Science, Israel
Workshop Photo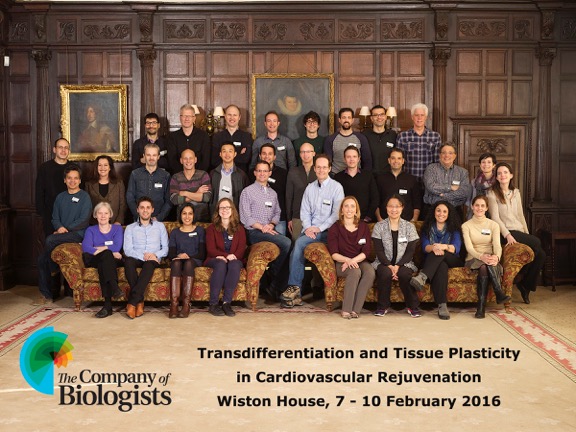 Slideshow
This slideshow requires JavaScript.
Transdifferentiation and Tissue Plasticity in Cardiovascular Rejuvenation
 7th – 10th February 2016
Wiston House, Steyning, West Sussex, UK