Toxic Metabolites in the Biology of Ageing and Cancer
Organisers: KJ Patel and Liz Patton
Date: 4 - 7 December 2022
Location: Buxted Park, East Sussex, UK
Toxic metabolites in our metabolism, diet and in pollution have a major impact on human health. For example, alcohol and sugar toxic metabolites contribute to global mortality, ageing, diabetes, neurodegeneration and cancer. In the past decade, there has been a transformation in our understanding of how toxic metabolites contribute to ageing and disease – where they come from, how organisms protect themselves against them, and how their accumulation can damage certain stem cells.
This Workshop will focus on the biology of toxic metabolites in the ageing process, stem cells and cancer. Specific emphasis will be placed on how metabolites that carry carbonyls (such as aldehydes and ketones) damage stem and cancer cells. A particular area will focus on endogenous aldehydes (such as acteladehyde, formaldehyde and methyl-gyoxal), the enzymes that remove them [aldehyde dehydrogenases (Aldh) and functionally related glutathione-based enzymes such as Adh5 and Glo-1/2]. Further, we will consider how human genetic variation can contribute to metabolite sensitivity, and how mutations in cancer genomes in toxic metabolism pathways can be exploited for therapy.
This Workshop is a first-in-kind that will focus on these reactive carbonyls and their role in ageing and disease. We bring together young and established investigators from basic, clinical and industry science to explore new avenues of how toxic metabolites and associated metabolising enzymes function in disease for the long-term benefit of stem-cell and cancer therapies.
An important outcome of this Workshop is to foster new collaborations and to promote the exchange of ideas on the function of ALDH and related enzymes. The investigators presented here are from a range of disciplines (basic science, clinical and industry) with diverse specialities in genetics, genomics, metabolism, chemistry, biochemistry, structural biology, cancer biology, drug development and animal models.
Organisers & speakers
KJ Patel MRC Weatherall Institute of Molecular Medicine, UK
Liz Patton University of Edinburgh, UK
Michalis Agathocleous University of Texas Southwestern Medical Center, USA
Peter Campbell Wellcome Trust Sanger Institute, UK
Christopher Chang University of California, Berkeley, USA
James K Chen Stanford University, USA
Gerry Crossan MRC Laboratory of Molecular Biology, UK
John Dick University Health Network, Canada
Mayumi Fujita University of Colorado, USA
Juan Garaycoechea Hubrecht Institute, The Netherlands
Marcus Grompe Oregon Health & Science University, USA
Thomas Hurley Indiana University, USA
Raymond Moellering University of Chicago, USA
Elena Piskounova Weill Cornell Medicine, USA
Christopher Schofield University of Oxford, UK
Katja Simon Max Delbrück Center for Molecular Medicine, Germany
Agata Smogorzewska Rockefeller University, USA
Aurelio Teleman German Cancer Research Center, Germany
Mike Tyers University of Montreal, Canada
Ashok Venkitaraman Cancer Science Institute of Singapore, Singapore
Early-career researchers
We offer 10 funded places for early-career researchers (PhD, postdocs and PIs in the first three years of their first appointment) to attend our Workshops along with the 20 invited speakers. We just ask that you pay for your own travel costs. If you would like to attend please complete the online application form and include a one page CV and a letter of support from your supervisor. If your supervisor would prefer to send the letter directly to us please ask them to email it to workshops@biologists.com
All attendees are expected to actively contribute to the Workshops by asking questions at presentation sessions and taking part in discussions, as well as giving a short talk on their research.
At some Workshops, early-career researchers are given additional responsibilities to promote their involvement, such as:
Write a daily blog for the Node
Summarise the previous day's themes to set the scene for the next day's sessions
Propose future directions and collaborations
Make a short two minute video on their experience at the Workshop
Most of these activities would be carried out in pairs or small groups and often with the support of more senior scientists present.
About Buxted Park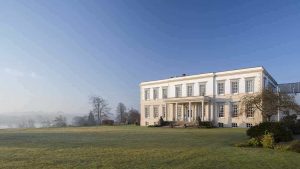 The Workshop will be held at the beautiful Buxted Park in East Sussex which dates back to the 12th century. The current house was built in 1722 by Sir Thomas Medley and is an elegant Grade II Palladian mansion set in 312 acres of parkland. Over the years it has played host to a number of high profile visitors including William Wordsworth, Winston Churchill, and George V and Queen Mary. Whilst it was a health hydro in the 1960s Gregory Peck, Dudley Moore and Marlon Brando were regular visitors.
Buxted Park is less than 25 miles from Gatwick Airport and 60 miles from Heathrow Airport. There are direct trains taking 1 hour 10 minutes from London Bridge to the village of Buxted which is only a mile away from the hotel.
Buxted Park Hotel
Station Road
Buxted
East Sussex
TN22 4AY
Tel: +44 (0) 1825 733333
Workshop Photos
This slideshow requires JavaScript.
Toxic Metabolites in the Biology of Ageing and Cancer
4 – 7  December 2022
Buxted Park, East Sussex, UK