From Physics to Function
Organisers: Johanna Ivaska and Xavier Trepat
Date: 9 - 12 October 2022
Location: Buxted Park, East Sussex, UK
With the increased appreciation that physical forces are key regulators of all biological processes, new emerging scientific communities are forming around topics such as physical forces in cancer and mechanobiology in different biological processes ranging from development to homeostasis. Currently, there exists somewhat of a void between the biologists and the physicists working on these topics. The interests are shared but the communication between the two crowds is limited by the lack of a common language. On one hand, there are vast advances being made in generating tuneable materials, versatile biomimetic polymers and artificial 3D scaffolds, and these are linked to advanced modelling and understanding of the physical parameters of these systems. However, the biological questions addressed may have limited physiological relevance and lack careful consideration of the burning questions in biology. On the other side, the cell biologists/developmental biologists/cancer biologists lack contact with the physicists, modellers and material scientists, and are unable to connect their biology to the relevant physical principles and available methodology. They lack understanding of the theory behind tissue mechanics and the engineering skills to investigate them. They would benefit massively from closer collaboration with the "other crowd".
Therefore, the main goal of this Workshop is to foster integration between physics and biology across scales, approaches, and participant backgrounds. The Workshop will be entail "biology-physics duets" – talks given jointly by two currently collaborating speakers, with different backgrounds. These will be accompanied by "solo" talks and relevant round table discussions on how physics and biology can be better integrated.
Topics will include:
1) Mechanotransduction from cell adhesions to the nucleus
2) Cytoskeleton mechanics and migration
3) Modelling of biological processes across scales
4) Top-down versus bottom-up approaches to living systems
5) How to promote cross-disciplinary research on biologically relevant questions
Organisers & speakers
Johanna Ivaska University of Turku, Finland
Xavier Trepat Institute for Bioengineering of Catalonia, Spain
Guillaume Charras University College London, UK
Ovijit Chaudhuri Stanford University, USA
Alexander Dunn Stanford University, USA
Edouard Hannezo Institute of Science and Technology, Austria
Sally Horne-Badovinac, University of Chicago, USA
Martin Humphries The University of Manchester, UK
Prisca Liberali Friedrich Miescher Institute for Biomedical Research, Switzerland
Lisa Manning Syracuse University, USA
David Odde University of Minnesota, USA
Ewa Paluch University of Cambridge, UK
Matthieu Piel Institut Curie, France
Beth Pruitt University of California, Santa Barbara, USA
Andela Saric Institute of Science and Technology Austria, Austria
Virgile Viasnoff National University of Singapore, Singapore
Danijela Vignjevic Institut Curie, France
Sara Wickström Max Planck Institute for Molecular Biomedicine, Germany
Alpha Yap The University of Queensland, Australia
Early-career researchers
We offer 10 funded places for early-career researchers (PhD, postdocs and PIs in the first three years of their first appointment) to attend our Workshops along with the 20 invited speakers. We just ask that you pay for your own travel costs. If you would like to attend please complete the online application form and include a one page CV and a letter of support from your supervisor. If your supervisor would prefer to send the letter directly to us please ask them to email it to workshops@biologists.com
All attendees are expected to actively contribute to the Workshops by asking questions at presentation sessions and taking part in discussions, as well as giving a short talk on their research.
At some Workshops, early-career researchers are given additional responsibilities to promote their involvement, such as:
Write a daily blog for the Node
Summarise the previous day's themes to set the scene for the next day's sessions
Propose future directions and collaborations
Make a short two minute video on their experience at the Workshop
Most of these activities would be carried out in pairs or small groups and often with the support of more senior scientists present.
About Buxted Park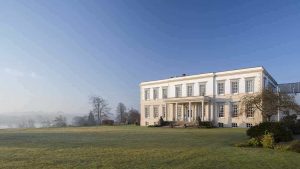 The Workshop will be held at the beautiful Buxted Park in East Sussex which dates back to the 12th century. The current house was built in 1722 by Sir Thomas Medley and is an elegant Grade II Palladian mansion set in 312 acres of parkland. Over the years it has played host to a number of high profile visitors including William Wordsworth, Winston Churchill, and George V and Queen Mary. Whilst it was a health hydro in the 1960s Gregory Peck, Dudley Moore and Marlon Brando were regular visitors.
Buxted Park is less than 25 miles from Gatwick Airport and 60 miles from Heathrow Airport. There are direct trains taking 1 hour 10 minutes from London Bridge to the village of Buxted which is only a mile away from the hotel.
Buxted Park Hotel
Station Road
Buxted
East Sussex
TN22 4AY
Tel: +44 (0) 1825 733333