Developmental Metabolism and the Origins of Health and Disease
Organisers: Sally Dunwoodie and Alex Gould
Date: 24 - 27 October 2022
Location: Buxted Park, East Sussex, UK
Metabolism is central to the functions of all cells and its importance in the field of cancer has been clear for many years. Much more recently, developmental biologists have begun to appreciate how metabolism intersects with the processes of growth, patterning and differentiation. The developmental origins of health and disease (DOHaD) is one clinically relevant field of developmental biology where many of the mechanistic links between early-life environmental factors, such as nutrition, and adult physiology remain unclear. Recent advances in developmental metabolism and sophisticated new metabolomics techniques now offer a promising route towards identifying these missing links.
This Workshop brings together a multidisciplinary group of developmental biologists, experts in nutrition and metabolism, and researchers interested in DOHaD. The invited speakers include clinical researchers as well as scientists covering a range of invertebrate and vertebrate models.
The program includes presentations and discussions on four intersecting themes:
Nutrition and metabolism
Metabolism of development
Developmental origins of health and disease
Metabolism in disease
The Workshop provides a small, friendly and focused setting in which to develop new ideas bridging these four themes. Our goal is to inspire new cross-disciplinary research directions aimed at discovering the mechanistic links between early-life metabolism and adult disease.
Organisers & speakers
Sally Dunwoodie, Victor Chang Cardiac Research Institute, Sydney, Australia
Alex Gould, The Francis Crick Institute, UK
Nazif Alic University College London, UK
Jens Brüning Max Planck Institute for Metabolism Research, Germany
Marika Charalambous King's College London, UK
Ralph Deberardinis University of Texas Southwestern Medical Center, USA
Lydia Finley Memorial Sloan Kettering Cancer Center, USA
Dino Giussani University of Cambridge, UK
Keith Godfrey University of Southampton, UK
Myriam Hemberger University of Calgary, Canada
Bruno Hudry Institut de Biologie Valrose, CNRS, France
Susan Ozanne University of Cambridge, UK
Wilhelm Palm German Cancer Research Center (DKFZ), Germany
Norbert Perrimon Harvard Medical School, USA
Olivier Pourquie Harvard Stem Cell Institute, USA
Theresa Powell University of Colorado, USA
Tristan Rodriguez Imperial College London, UK
Aurelio Teleman German Cancer Research Center (DKFZ), Germany
Marian Walhout University of Massachusetts Chan Medical School, USA
Early-career researchers
We offer 10 funded places for early-career researchers (PhD, postdocs and PIs in the first three years of their first appointment) to attend our Workshops along with the 20 invited speakers. We just ask that you pay for your own travel costs. If you would like to attend please complete the online application form and include a one page CV and a letter of support from your supervisor. If your supervisor would prefer to send the letter directly to us please ask them to email it to workshops@biologists.com
All attendees are expected to actively contribute to the Workshops by asking questions at presentation sessions and taking part in discussions, as well as giving a short talk on their research.
At some Workshops, early-career researchers are given additional responsibilities to promote their involvement, such as:
Write a daily blog for the Node
Summarise the previous day's themes to set the scene for the next day's sessions
Propose future directions and collaborations
Make a short two minute video on their experience at the Workshop
Most of these activities would be carried out in pairs or small groups and often with the support of more senior scientists present.
About Buxted Park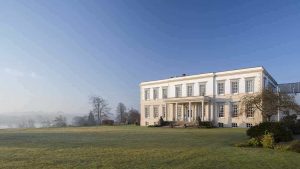 The Workshop will be held at the beautiful Buxted Park in East Sussex which dates back to the 12th century. The current house was built in 1722 by Sir Thomas Medley and is an elegant Grade II Palladian mansion set in 312 acres of parkland. Over the years it has played host to a number of high profile visitors including William Wordsworth, Winston Churchill, and George V and Queen Mary. Whilst it was a health hydro in the 1960s Gregory Peck, Dudley Moore and Marlon Brando were regular visitors.
Buxted Park is less than 25 miles from Gatwick Airport and 60 miles from Heathrow Airport. There are direct trains taking 1 hour 10 minutes from London Bridge to the village of Buxted which is only a mile away from the hotel.
Buxted Park Hotel
Station Road
Buxted
East Sussex
TN22 4AY
Tel: +44 (0) 1825 733333
Workshop Photos
This slideshow requires JavaScript.
Developmental Metabolism and the Origins of Health and Disease
24 – 27 October 2022
Buxted Park, East Sussex, UK