Mitosis and Nuclear Structure
Organisers: Katherine Wilson, Timothy Mitchison and Michael Rout
Date: 23rd – 26th June 2013
Location: Wiston House, Steyning, West Sussex, UK
Mitosis and genome segregation in eukaryotes are surprisingly dependent on nuclear pore complex proteins ('Nups') plus actin and other components of the nucleoskeleton. This suggests nuclear structure and mitosis might have co-evolved in early eukaryotes. Fundamentally new insight about mitosis is also coming from bacteria, in which DNA segregation is mediated by proteins related to actin or other conserved nucleo-cytoskeletal proteins, and membrane-associated proteins. This high-level workshop brought together scientists who normally inhabit separate 'worlds'— evolution, bacterial cell biology, eukaryotic mitosis, chromosome biology, and nuclear structure— for intensive discussions in the setting of a beautiful English estate to gain fresh insight, stimulate new ideas and forge innovative collaborations essential to understanding the conserved origins of life on earth.
Topics included;
Nuclear pore complexes and evolution
Nups and lamina proteins in mitosis
Mitotic spindle and 'matrix'
Conserved nuclear membrane proteins
DNA partitioning in bacteria
Chromosomes in mitosis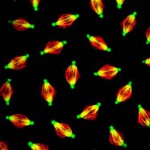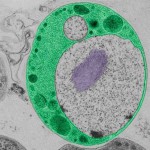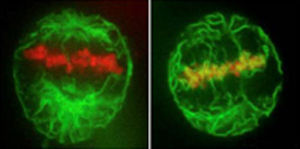 Download programme for this Workshop
Published Information from the Workshop
Meeting report written by John C. Meadows, Katja Graumann, Melpi Platani, Nina Schweizer, Takeshi Shimi, Paola Vagnarelli, Jay C. Gatlin and published in the Journal of Cell Science.
JCS Reviews Editor Petra Gross interviews Katherine Wilson, Sir Tim Hunt and Ralph Gräf at the Workshop.
Organisers & Speakers
Katherine Wilson  
Johns Hopkins School of Medicine, Baltimore, USA
Timothy Michison  
Harvard University, Boston, USA
Michael Rout  
Rockefeller University, New York, USA
Brian Burke  
Immunos, Singapore
Catherine Dargemont  
INRS & Univ. Denis Diderot, Paris, France
Mary Dasso  
INIH, Bethesda, USA
Damien Devos  
Ruprecht-Karls-University, Heidelberg, Germany
Valerie Doye  
University of Paris, France
David Evans  
Oxford Brookes University, UK
Mark Field  
University of Cambridge, UK
Ralph Graf  
University of Potsdam, Germany
Yosef Gruenbaum
The Hebrew University of Jerusalem, Israel
Rebecca Heard  
University of California, Berkeley, USA
Martin Hetzer  
The Salk Institute for Biological Studies, California, USA
Christine Jacobs-Wagner  
Yale University, USA
Kristen Johansen  
Iowa State University, USA
Tom Misteli  
NIH, Bethesda, USA
Eric Schirmer  
University of Edinburgh, Scotland, UK
David Sherratt  
University of Oxford, UK
Yixian Zheng  
Carnegie Institution for Science, Baltimore, USA
Workshop Photo