Metabolism in Development and Disease
Organisers: Suzanne Eaton, Wilhelm Palm and Craig Thompson
Date: 15th - 18th May 2016
Location: Wiston House, Steyning, West Sussex, UK
In 1925, Otto Warburg noted that many types of cancer cells derive energy from glycolysis rather than oxidative phosphorylation even in the presence of oxygen. Over the last decade, this observation has received renewed attention from cancer biologists, and it has emerged that specialized metabolic wiring (including "Warbug" metabolism) is key to supporting the production of biomass necessary for growth. How metabolic adaptations might regulate growth during development and regeneration has been less well explored, but these ideas are beginning to interest developmental and stem cell biologists. Genetic model organisms will provide powerful systems with which to understand how metabolism is regulated in development and how it changes as cells differentiate and tissues approach their final size and stop growing. Understanding how growth-promoting metabolism is normally coordinated with development will be critical to deciphering how these mechanisms are deregulated in cancer.
To achieve this synthesis, the workshop will bring together researchers interested in cancer metabolism with developmental biologists interested in growth regulation. Cross-fertilization of ideas across these disciplines will inspire new research directions and collaborations. To this end, sufficient time for discussions and non-formal interactions will be provided.
Workshop sessions will be focused on:
1) cell metabolism and growth
2) metabolic cooperation and competition between cells
3) metabolic sensing
4) cell metabolism in normal development
The Company of Biologists' Workshops only take place three times per year, on topics that are driving forward the progress of life sciences and biomedical research. The meetings are small and intensive, taking place over 3 days with 20 invited participants, all of whom we ask to make a presentation, and a further 10 chosen from submitted applications (students and postdocs as well as junior PIs). A condition of attendance is that you are present for the full meeting, from Sunday lunchtime through to Wednesday lunchtime.
ATP FRET signals at different times after blocking oxidative phosphorylation in a growing wing disc of Dropsophila. Image courtesy of Venkatesan Iyer.
Organisers & Speakers
Diane Barber
UCSF, USA
Doreen Cantrell
University of Dundee, UK
Paola Chiarugi
University of Florence, Italy
Ralph DeBerardinis
UTSouthwestern, USA
Eyal Gottlieb
University of Glasgow, UK
Alex Gould
The Francis Crick Institute, UK
Catarina Homem
CEDOC, Portugal
William Harris
University of Cambridge, UK
Laura Johnston
Columbia University, USA
Christian Klaembt
University of Muenster, Germany
Teymuras Kurzchalia
Max Planck Institute, Germany
Pierre Magistretti
Brain Mind Institute, EPFL, Switzerland
Olivier Pourquié
Harvard Medical School, USA
Peter Ratcliffe
University of Oxford, UK
Naomi Taylor
The Institute of Molecular Genetics of Montpellier, France
Aurelio Teleman
German Cancer Research Center (DKFZ), Germany
Benjamin Tu
UTSouthwestern, USA
About Wiston House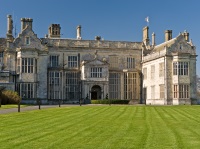 The Workshops will be held at the beautiful Wiston House, which is a 16th Century Grade I listed building located at the foot of the South Downs in West Sussex. The House is surrounded by over 6,000 acres of parkland with magnificent views from the mile-long drive.
Wiston House is one of the world's leading centres for the discussion of key international policy issues. It was created in 1946 to help re-establish peace and democracy in Europe as part of an initiative inspired by Winston Churchill. Wiston House has an amazing history and appears in the Domesday Book, the register of English possessions made by William the Conqueror in 1086, 20 years after he won the Battle of Hastings.
Wiston House is 32 miles from Gatwick Airport and 60 miles from Heathrow Airport. The nearest train station is Shoreham-by-Sea, which is a 20 minute taxi ride from Wiston House and takes 1 hour 10 minutes from London Victoria.
Wiston House
Steyning Road
Steyning
West Sussex
BN44 3DZ
Tel: +44 (0) 1903 815020
www.wistonhouse.co.uk