Growth, Division and Differentiation: Understanding Developmental Control
Organisers: Anna Philpott and Nancy Papalopulu
Date: 18th – 21st September 2011
Location: Wiston House, Steyning, West Sussex, UK
To generate tissue mass and to adopt diverse functions, cells of the early embryo must grow, divide and ultimately differentiate. While pathways controlling these individual events have been well-characterised, we have much less understanding of the mechanisms co-ordinating these processes during embryogenesis.
The aim of this workshop was to bring together researchers studying cell growth, cell cycle and differentiation in diverse developmental models, to explore common control mechanisms uncovered using genetic, cell and molecular approaches.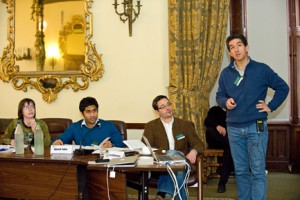 Download programme for this workshop
Published Information from the Workshop
During the workshop the early career scientists wrote a blog on the Node for the workshop each day.
Helena Richardson and Philipp Kaldis wrote a meeting report and it was published in Development in January 2012.
Organisers & Speakers
Nancy Papalopulu 
University of Manchester, England, UK
Anna Philpott 
University of Cambridge, England, UK
Rod Bremner  
Toronto Western Hospital, Canada
Federico Calegari  
CRTD, Dresden, Germany
Bill Harris  
University of Cambridge, England, UK
Ludger Hengst  
University of Innsbruck, Austria
Wieland B. Huttner  
MPI, Dresden, Germany
Ryoichiro Kageyama  
Kyoto University, Japan
Philipp Kaldis  
IMCB, Proteos, Singapore
Marc Kirschner  
Harvard Medical School, USA
Kristen Kroll  
Washington University School of Medicine, USA
Jackie Lees  
MIT, Massachusetts, USA
Nick Monk  
University of Sheffield, England, UK
Ginés Morata  
CBM, Madrid, Spain
Muriel Perron  
University of South Paris, France
Fabienne Pituello  
Centre de Biologie du Développement, France
Helena Richardson  
Peter MacCallum Cancer Centre, Melbourne, Australia
Peter Sicinski  
Harvard Medical School, Massachusetts, USA
Nic Tapon  
Cancer Research UK London Research Institute, UK
P. Renee Yew  
University of Texas, San Antonio, USA
Workshop Photo