Genotype to Phenotype: Bridging Comparative Genomics and Cell Biology
Organisers: Gautam Dey and Eelco C. Tromer
Date: 13-16 November, 2022
Location: Buxted Park, East Sussex, UK
Enabled by the plummeting costs of sequencing and greatly improved analytical tools, today's cell biologists have an unprecedented opportunity to place decades of model systems research within a comparative, evolutionary framework. However, we lack the ability to accurately map genotype to phenotype. Is it possible to accurately infer or predict cellular morphology, dynamics and function from genomic data? Moreover, once we understand a key regulator's molecular function and cellular role in any given model, can we predict how its orthologs will behave in a novel or reconstructed genomic context and cellular milieu?
In this Workshop, we aim to bring together computational, cell, and evolutionary biologists to help address this major challenge of integrative cell biology. We strongly believe that actively seeking out collaboration across fields will be crucial to push cell biology beyond the boundaries of individual species into a truly comparative discipline anchored to predictive models. In turn, computational biologists will have an opportunity to guide and influence the next phase of big data generation in cell biology. Together, in deciphering the rules that underpin the relationship between the genome and the cell that encases it, we will better understand both evolution and cellular function.
Organisers & speakers
Gautam Dey EMBL, Germany
Eelco C. Tromer University of Groningen, The Netherlands
Pedro Beltrao IMSB ETH Zurich, Switzerland
Jan de Vries University of Goettingen, Germany
Marie Delattre French National Centre for Scientific Research, France
Omaya Dudin EPFL, Switzerland
Maitreya Dunham University of Washington, USA
Bas E. Dutilh Friedrich Schiller University Jena, Germany
Laura Eme Paris-Sud University, France
Lillian Fritz-Laylin University of Massachusetts, USA
Toni Gabaldón IRB Barcelona, Spain
Amy Gladfelter University of North Carolina, USA
Georg Hochberg Max Planck Institute for Terrestrial Microbiology, Germany
Gaspar Jekely University of Exeter, UK
Steve Kelly University of Oxford, UK
Liedewij Laan Delft University of Technology, The Netherlands
Laura Landweber Columbia University, USA
Deborah Marks Harvard Medical School, USA
John McCutcheon Arizona State University, USA
Alex Nguyen Ba University of Toronto, Canada
Thomas Richards University of Oxford, UK
Flora Vincent EMBL, Germany
Jeremy Wideman Arizona State University, USA
Early-career researchers
We offer 10 funded places for early-career researchers (PhD, postdocs and PIs in the first three years of their first appointment) to attend our Workshops along with the 20 invited speakers. We just ask that you pay for your own travel costs. If you would like to attend please complete the online application form and include a one page CV and a letter of support from your supervisor. If your supervisor would prefer to send the letter directly to us please ask them to email it to workshops@biologists.com
All attendees are expected to actively contribute to the Workshops by asking questions at presentation sessions and taking part in discussions, as well as giving a short talk on their research.
At some Workshops, early-career researchers are given additional responsibilities to promote their involvement, such as:
Write a daily blog for the Node
Summarise the previous day's themes to set the scene for the next day's sessions
Propose future directions and collaborations
Make a short two minute video on their experience at the Workshop
Most of these activities would be carried out in pairs or small groups and often with the support of more senior scientists present.
About Buxted Park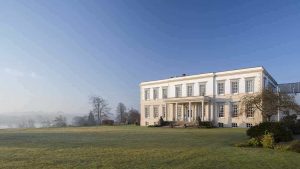 The Workshop will be held at the beautiful Buxted Park in East Sussex which dates back to the 12th century. The current house was built in 1722 by Sir Thomas Medley and is an elegant Grade II Palladian mansion set in 312 acres of parkland. Over the years it has played host to a number of high profile visitors including William Wordsworth, Winston Churchill, and George V and Queen Mary. Whilst it was a health hydro in the 1960s Gregory Peck, Dudley Moore and Marlon Brando were regular visitors.
Buxted Park is less than 25 miles from Gatwick Airport and 60 miles from Heathrow Airport. There are direct trains taking 1 hour 10 minutes from London Bridge to the village of Buxted which is only a mile away from the hotel.
Buxted Park Hotel
Station Road
Buxted
East Sussex
TN22 4AY
Tel: +44 (0) 1825 733333