Collective Cell Migration: From In Vitro to In Vivo
Organisers: David Bryant, Nir Gov, Laura Machesky and Denise Montell
Date: 19-22 February 2023
Location: Buxted Park, East Sussex, UK
Collective cell migration has paramount importance for embryogenesis, tissue repair and cancer progression. This phenomenon spans from the microscopic, molecular scale of cell signalling and cell-cell interactions, to the macroscopic, tissue-level scale of multicellular dynamics, and is amenable to both experimental and theoretical investigations. Collective cell migration is distinctly different from single cell migration in terms of its biological complexity and theoretical treatment.
Our interdisciplinary program focuses on four key topics of collective cell migration, ranging from the molecular to the organismal level:
Cellular mechanisms of collective movement and metastasis
Mechanobiology of morphogenesis
Biophysical and mathematical modelling of collective movement and morphogenesis
In vivo imaging of migration and metastasis
This allows us to bring together a diverse and dynamic range of speakers, spanning the cell biology, developmental biology, physics, mathematics, and in vivo imaging fields. We believe that this multidisciplinary approach will not only facilitate interactions between alternate approaches and viewpoints but will engender an atmosphere of thinking outside one's discipline. This Workshop aims to bring together these complementary fields to reach a common consensus on the challenges in our understanding of how cells collectively move, and how this collective migration contributes to metastasis.
Organisers & speakers
David Bryant Cancer Research UK Beatson Institute, UK
Nir Gov Weizmann Institute of Science, Israel
Laura Machesky Cancer Research UK Beatson Institute, UK
Denise Montell University of California, Santa Barbara, USA
Kyra Campbell University of Sheffield, UK
Andrew Davidson University of Edinburgh, UK
Sandrine Etienne-Manneville Institut Pasteur, France
Andy Ewald Johns Hopkins University, USA
Jacky Goetz INSERM, France
Fanny Jaulin Institut Gustave Roussy, France
Philip Maini University of Oxford, UK
Milka Sarris University of Cambridge, UK
Giorgio Scita IFOM ETS – The AIRC Institute of Molecular Oncology, Italy
David Sherwood Duke University, USA
Pascal Silberzan Institut Curie, France
Samantha Stehbens The University of Queensland, Australia
Sebastian Streichan University of California, USA
Paul Timpson Garvan Institute, Australia
Daniela Vignjevic Institut Curie, France
Julia Yeomans University of Oxford, UK
Early-career researchers
We offer 10 funded places for early-career researchers (PhD, postdocs and PIs in the first three years of their first appointment) to attend our Workshops along with the 20 invited speakers. We just ask that you pay for your own travel costs. If you would like to attend please complete the online application form and include a one page CV and a letter of support from your supervisor. If your supervisor would prefer to send the letter directly to us please ask them to email it to workshops@biologists.com
All attendees are expected to actively contribute to the Workshops by asking questions at presentation sessions and taking part in discussions, as well as giving a short talk on their research.
At some Workshops, early-career researchers are given additional responsibilities to promote their involvement, such as:
Write a daily blog for the Node
Summarise the previous day's themes to set the scene for the next day's sessions
Propose future directions and collaborations
Make a short two minute video on their experience at the Workshop
Most of these activities would be carried out in pairs or small groups and often with the support of more senior scientists present.
About Buxted Park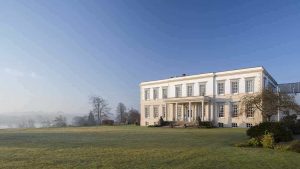 The Workshop will be held at the beautiful Buxted Park in East Sussex which dates back to the 12th century. The current house was built in 1722 by Sir Thomas Medley and is an elegant Grade II Palladian mansion set in 312 acres of parkland. Over the years it has played host to a number of high profile visitors including William Wordsworth, Winston Churchill, and George V and Queen Mary. Whilst it was a health hydro in the 1960s Gregory Peck, Dudley Moore and Marlon Brando were regular visitors.
Buxted Park is less than 25 miles from Gatwick Airport and 60 miles from Heathrow Airport. There are direct trains taking 1 hour 10 minutes from London Bridge to the village of Buxted which is only a mile away from the hotel.
Buxted Park Hotel
Station Road
Buxted
East Sussex
TN22 4AY
Tel: +44 (0) 1825 733333