Eukaryo-/Archaeogenesis: Where Do We Stand?
Organisers: Céline Brochier-Armanet and Damien P. Devos
Date: 8th – 11th March 2015
Location: Wiston House, Steyning, West Sussex, UK
Elucidating the nature of the relationship linking Archaea and Eucarya is at the crossroads of many research fields, including molecular phylogenetics, genomics, paleogeology, biochemistry and cell biology, amongst others. Recent advances in these fields include: the discovery of typical eukaryotic features in Archaea and bacteria; the inference that the last common ancestor of Eucarya was very similar to present day eukaryotes; the discovery of 2.1 Gyr large colonial fossils that could represent ancestral eukaryotes; an unsuspected diversity of archaeal lineages, some of which are proposed to be at the origin of Eucarya, etc. However, important questions remain, and it seems that we might have reached the limit of what we can infer from each field separately. Overcoming this 'impasse' to gain further understanding of the relationships between the three domains of life now requires the integration of data from different fields. Unfortunately, dialogue among those communities has been quite scarce.
The aims of this meeting are to bring together as diverse a group as possible of experimental and theoretical biologists who are interested in eukaryo- or archaeogenesis to promote dialogue in order to bridge the gap between these communities. To do so, we aim to gather the most prominent players from these research fields. We are organising this interdisciplinary workshop because we believe it is now timely to bring together a group of experts to discuss the current state of knowledge about eukaryo- and archaeogenesis and how we can learn from each other. All the invited speakers are using different methods to address different problems related to the origin of those domains, which makes this a particularly valuable workshop for cross-fertilisation of ideas and techniques.
The Company of Biologists' Workshops only take place three times per year, on topics that are driving forward the progress of life sciences and biomedical research. The meetings are small and intensive, taking place over 3 days with 20 invited participants, all of whom we ask to make a presentation, and a further 10 chosen from submitted applications (students and postdocs as well as PIs). A condition of attendance is that you are present for the full meeting, from Sunday lunchtime through to Wednesday lunchtime.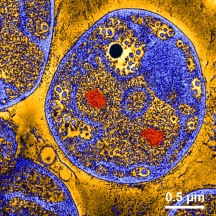 Organisers & Speakers
Céline Brochier-Armanet  
University of Lyon, France
Damien P. Devos  
CABD, Spain
Sandra Baldauf  
Uppsala University, Sweden
Stephen Bell  
Indiana University, USA
Roger Buick  
University of Washington, USA
Joel Dacks  
University of Alberta, Canada
Laura Eme  
Dalhousie University, Canada
Thijs Ettema  
Uppsala University, Sweden
Mark Field  
University of Dundee, UK
Simonetta Gribaldo  
Institut Pasteur, France
Emmanuelle Javaux  
University of Liège, Belgium
Puri López-Garcia  
University of South Paris, France
Stuart MacNeill  
University of St Andrews, UK
David Moreira  
University of South Paris, France
Anthony Poole  
University of Canterbury, New Zealand
Andrew Roger  
Dalhousie University, Canada
Bettina Siebers  
University of Duisburg-Essen, Germany
Finn Werner  
University College London, UK
Tom Williams  
Newcastle University, UK
Workshop Photo
Slideshow
This slideshow requires JavaScript.
Eukaryo-/Archaeogenesis: Where Do We Stand?
8th – 11th March 2015
Wiston House, Steyning, West Sussex, UK