Cancer as a Microevolutionary Process
Organisers: Gerard Evan, Douglas Green and Karen Vousden
Date: 6th - 9th March 2011
Location: Wilton Park, Steyning, West Sussex, UK
It is not so much the inherent mechanistic diversity of cancers that makes them difficult to treat so much as the fact that they are evolving targets. Although they may be initially derived from a clonal progenitor, by the time they are macroscopic tumors comprise heterogeneous cell populations that are divergent both genetically and in acquired status (e.g. signaling, location, history). Unfortunately, most approaches to understanding cancers effectively treat a tumor as a unitary object possessed of a fixed, immutable and uniform set of responses. This workshop aimed to address the process of carcinogenesis using an evolutionary lens: it discussed what innate (e.g. tissue constraints, tumor suppressors and stress responses) and extrinsic (e.g. therapies) selective pressures shape tumor evolution /in vivo/, how this varies between tumor types, and what insights such a view offer us with respect to cancer biology.
Download programme for this workshop
Published Information from the Workshop
Three Model for Life interviews were conducted and all published in Disease Models & Mechanisms;
Each one consists of a condensed and adapted version of the transcribed interview plus audio excerpts included in the DMM podcast.
Organisers & Speakers
Gerard Evan  
University of Cambridge, Cambridge, UK
Douglas Green  
St. Jude Children's Research Hospital, Memphis, USA
Karen Vousden  
Beatson Institute for Cancer Research, Glasgow, UK
Frances Balkwill  
Institute of Cancer, London, UK
Anton Berns  
Netherlands Cancer Institute, Amsterdam, The Netherlands
Mariann Bienz  
Medical Research Council, Cambridge, UK
James DeGregori  
University of Colorado, Aurora, USA
Steven Frank  
University of California, Irvine, USA
Mel Greaves  
The Institute of Cancer Research, Sutton, UK
Chris Howe  
University of Cambridge, Cambridge, UK
Laurence Hurst  
University of Bath, Bath, UK
Leisa Johnson  
Genentech, Inc., San Francisco, USA
Carlo Maley  
The Wistar Institute, Philadelphia, USA
Ruslan Medzhitov  
Howard Hughes Medical Institute, New Haven, USA
Clodagh O'Shea  
Salk Institute for Biological Studies, San Diego, USA
Steve Oliver  
University of Cambridge, Cambridge, UK
Martin Raff  
Medical Research Council, London, UK
Alejandro Sánchez Alvarado  
Stowers Institute for Medical Research, Kansas City, USA
David Tuveson  
Cancer Research UK, Cambridge, UK
Mike Tyers  
Wellcome Trust, Edinburgh, UK
Paolo Vineis  
Imperial College, London, UK
Zena Warb  
University of California, San Francisco, USA
Irving Weissman  
Stanford University, Stanford, USA
Workshop Photo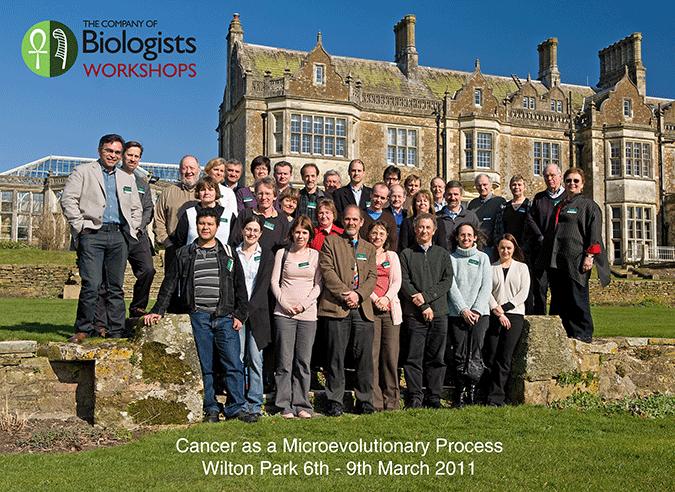 Slideshow
Cancer as a Microevolutionary Process
6th – 9th March 2011
Wiston House, Steyning, West Sussex, UK