Journal of Experimental Biology Symposium 2024
Integrating Biomechanics, Energetics and Ecology in Locomotion
Organisers: Andrew Biewener, Alan Wilson
Date: 18-22 March 2024
Location: Hotel Eiger, Mürren, Switzerland
Linking biomechanics and energetics is challenging for all forms of locomotion, especially in the context of free-ranging movement in the natural environment. Traditionally, biomechanists relate to mechanics, physiologists focus on metabolic energy consumption – often in a laboratory context – and ecologists rely on field-based proxies of movement and energy use, such as accelerometry. For all three groups, direct measurements in the field are usually challenging so an integrative framework would be valuable. Such a framework would strengthen the biological and scientific relevance of both field and laboratory measurements, while a shared conceptual framework would enable better experimental data and information flow at the interface of the disciplines.
The aim of this symposium is to promote cross-disciplinary understanding and establish a common framework for studies that link energy consumption, muscle function and locomotor mechanics in terrestrial, aerial and aquatic locomotion. The meeting will bring together key innovators working across the traditional boundaries of biomechanics, ecology and physiology to examine multidisciplinary approaches for investigating how animals use energy to power movement. We want speakers to be forward-thinking, even speculative, with an emphasis on novel approaches and questions to address in their field and opportunities for integration across disciplines.
The presentations from the meeting will be shared with the wider scientific community by being published as Review/Commentary articles in a supplementary special issue of JEB in early 2025.
Programme
The symposium is open to invited speakers and delegates only.
However, all presentations will be published as a special issue of Journal of Experimental Biology in early 2025.
Venue

The Symposium will be held in the Hotel Eiger in the charming Swiss village of Mürren, which is easily accessible by train from international airports at Zürich, Bern, Basel and Geneva. As the highest altitude ski resort in the Bernese Oberland, car-free Mürren is perched on a high terrace facing the famous Eiger, Mönch and Jungfrau mountains.
Hotel Eiger Mürren
Aegerten
3825 Mürren
Switzerland
Tel: +41 33 856 54 54
Fax: +41 33 856 54 56
E-Mail: info@hoteleiger.com
Website: www.hoteleiger.com/en/
Travel
Mürren is 154 km/96 miles from Zürich. Travel time from Zürich airport is approximately 2.5 hours by car and 3.5 hours by train. The resort is 231 km/144 miles from Geneva and 72 km/45 miles from Bern.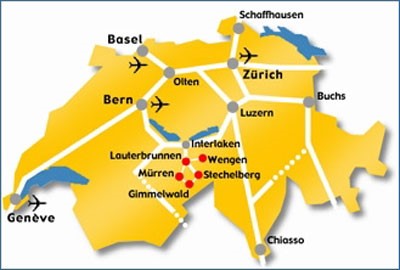 Mürren is located in the Bernese Oberland. It is a car-free mountain resort on a rock ledge at 1650 m altitude, reachable either via Lauterbrunnen (cable car + tram) or via Stechelberg (two cable cars).
Public transport in Switzerland is well-known for its reliability and is the easiest way to get to car-free Mürren.
Accompanying persons
Spouses/domestic partners are welcome to accompany invited delegates to the meeting. To cover the costs of the accommodation, catering and social event, the registration fee will be CHF 830 (Swiss francs). The fee assumes two people sharing a double room and that accompanying persons will NOT attend the scientific sessions.
Registration fee (CHF 830) for accompanying persons includes:
Accommodation for four nights (18-21 March)
Welcome Reception on 18 March
Breakfast on 19-22 March
Lunch on 19-21 March
Dinner on 18-20 March
Conference dinner on 21 March
Social event on 20 March
To register an accompanying person, please email us by  15 January 2024.
Charges may be incurred for cancellations after 29 February 2024.