*MEETING CANCELLED*
Due to the COVID-19 pandemic, we have made the difficult decision to cancel the JEB 2020 Symposium. This is in response to delegate welfare concerns regarding safety, travel restrictions and quarantines.
However, we will still be publishing a SPECIAL ISSUE on this topic in early 2021, featuring Review articles authored by many of the symposium speakers listed below.
Journal of Experimental Biology Symposium 2020
Predicting the future: species survival in a changing world
Organisers: Craig Franklin, Hans Hoppeler
Date: 13-16 December 2020
Location: Hotel Eiger, Mϋrren, Switzerland
Experimental biologists have the potential to play a significant role in assessing the susceptibility or resilience of species to future, human-induced environmental change, whether on a global scale such as climate change (e.g. effects of global warming, ocean acidification, increased UV-B radiation)  or more locally (e.g. impacts of the damming of rivers, urban heat). Understanding how changing environmental drivers – including temperature, rainfall, salinity, oxygen levels, pH and UV radiation – affect physiological processes and whether organisms have the capacity to physiologically compensate is becoming more critical given the potential effects on biodiversity and ecosystem function, but also due to food security. Developing models to predict the future will require not only a mechanistic understanding of the effects of environmental drivers and their interactions on physiological homeostasis but also a greater understanding of the genotypic and phenotypic plasticity of species. The potential exists to use this knowledge to deliver mitigation measures and management strategies to protect species and ensure food security.
This symposium will bring together experts who work across taxa and environmental drivers and who are using physiological tools and approaches to predict the future responses of organisms to environmental change. Speakers will be asked to reflect upon how the field has changed over the past 10 years, i.e. since the 2010 JEB Special issue on 'Survival in a Changing World'.
Organisers & speakers
Scientific Organisers
Speakers
Lauren Buckley (University of Washington, USA)
Sarah Diamond (Case Western Reserve University, USA)
Andrea Fuller (University of the Witwatersrand, South Africa)
Christian Hof (Technische Universität München, Germany)
Fredric Janzen (Iowa State University, USA)
Sjannie Lefevre (University of Oslo, Norway)
Cécile Le Lann (Université de Rennes 1, France)
Andrew McKechnie (University of Pretoria, South Africa)
David McKenzie (Centre for Marine Biodiversity Exploitation and Conservation, France)
Anthony Pagano (University of California, Santa Cruz, USA)
Hans-Otto Pörtner (Alfred Wegener Institute, Germany)
Hollie Putnam (University of Rhode Island, USA)
Carmenza Robledo Abad Althaus (ETH Zϋrich, Switzerland)
Essie Rodgers (The Australian National University, Australia)
Inna Sokolova (University of Rostock, Germany)
Josefin Sundin (Swedish University of Agricultural Sciences, Sweden)
Programme
The symposium is open to invited speakers and delegates only. However, all presentations will be published as a special issue of Journal of Experimental Biology in early 2021.
Venue

The Symposium will be held in the Hotel Eiger in the charming Swiss village of Mürren, which is easily accessible by train from international airports at Zürich, Bern, Basel and Geneva. As the highest altitude ski resort in the Bernese Oberland, car-free Mürren is perched on a high terrace facing the famous Eiger, Mönch and Jungfrau mountains.
Hotel Eiger Mürren
Aegerten
3825 Mürren
Switzerland
Tel: +41 33 856 54 54
Fax: +41 33 856 54 56
E-Mail: info@hoteleiger.com
Website: www.hoteleiger.com/en/
Travel
Mürren is 154 km/96 miles from Zürich. Travel time from Zürich airport is approximately 2.5 hours by car and 3.5 hours by train. The resort is 231 km/144 miles from Geneva and 72 km/45 miles from Bern.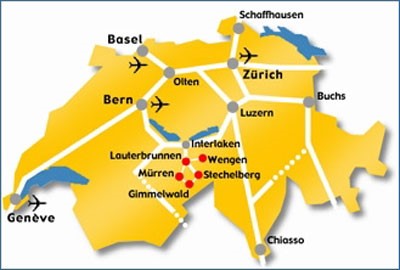 Mürren is located in the Bernese Oberland. It is a car-free mountain resort on a rock ledge at 1650 m altitude, reachable either via Lauterbrunnen (cable car + tram) or via Stechelberg (two cable cars).
Public transport in Switzerland is well-known for its reliability and is the easiest way to get to car-free Mürren.
By air
Zürich (ZRH) is the largest airport in Switzerland, with the most scheduled flights. You can also get international flights to Bern (BRN), Basel (MLH) and Geneva (GVA). Zürich and Geneva have good rail connections from within the airport and we advise you to use the rail system to get to Mürren (see below).
Note that The Company of Biologists will be carbon-offsetting the flights of all delegates to this meeting.
By rail
The Swiss Federal Railway (SBB) has an online timetable and you can plan your route and pre-purchase your tickets online up to 30 days prior to your date of travel (for further information, see FAQs for purchasing tickets online). A variety of ticket offers are available (which may provide savings if you also intend to take some vacation as part of your trip) but most people will only require a return ticket from the airport (flughafen) to Mϋrren (Muerren BLM).
You should aim to arrive in Mϋrren by 5 pm on Sunday 13 December.
Tickets purchased online can either be printed or downloaded to your phone, tablet, etc. Alternatively, you can buy a return ticket at the ticket counter or the ticket machines in the airport. A second-class return ticket from Zürich Flughafen (airport) to Mϋrren BLM via the route below is currently CHF 186 online and the journey takes approximately 3 hours 15 mins. Detailed instructions for all train and platform changes can be viewed by clicking on the '+' symbol next to your chosen train in the online timetable.
Route from Zϋrich airport to Mϋrren BLM:
From the airport, take the train to Bern
At Bern, change platforms and take the train to Interlaken Ost
At Interlaken Ost, change to the Bernese Oberland Railway (BOB) to Lauterbrunnen.
From Lauterbrunnen, take the mountain railway (BLM) to Mürren.
The BLM station is directly opposite the hotel.
If you are flying into Basel, you will need to get a bus from the airport to the railway station and then take a train to Interlaken Ost and follow steps 3-5 above.
If you are flying into Geneva, follow steps 1-5 above, but note that the journey will take at least 4 hours 15 minutes.
If your flights are delayed, note that the last BLM connection from Lauterbrunnen to Mürren (step 4 above) generally leaves Lauterbrunnen at 8.35 pm (arriving in Mürren at 8.55 pm). If you arrive at Lauterbrunnen later than this, you will need to take a bus to Stechelberg and then take the Schilthornbahn cable car (LSMS) to Mürren. The last cable car departs Stechelberg at 23.45h (arriving in Mürren at 23.55h).
By road
If you are driving to the venue, you will need to park your car in Lauterbrunnen and take the Mϋrrenbahn mountain railway (BLM) to car-free Mürren. Train timetables and online booking are available at the SBB website. The multi-storey car park in Lauterbrunnen is connected internally with the BLM, and parking can be reserved up to five days in advance (click here for details). Alternatively, you can take the Schilthornbahn (LSMS) from Stechelberg to Mürren.