From stem cells to human development
Organisers: Olivier Pourquié, Benoit Bruneau, Gordon Keller and Austin Smith
Date: 25 – 28 September 2016
Location: Southbridge Hotel & Conference Center, Massachusetts, USA
Our understanding of human embryonic development is limited by the experimental inaccessibility of the system. Thus, we have been forced to make assumptions about how humans develop based on our knowledge of other mammals, especially the mouse. However, the recent explosion in stem cell research, particularly the generation of human pluripotent stem cells and the development of organoid culture systems, has provided new opportunities for investigating lineage choice, cell differentiation, tissue organisation and even organ morphogenesis using human cells. Such work promises not only to provide a more complete knowledge of our own developmental origins, but also to inform our efforts to understand and treat developmental disorders and, perhaps most importantly, to help bring regenerative therapies to the clinic.
Following on from our highly successful inaugural meeting in 2014, the second in this series of meetings 'From stem cells to human development' brought together scientists with a common interest in understanding human development using stem cell systems. Topics that were discussed included the regulation of pluripotency and differentiation, development of the major lineages and tissue morphogenesis, as well as translational aspects of human stem cell research.
Organisers & speakers
Paola Arlotta
Harvard Medical School, USA
Yann Barrandon
Swiss Federal Institute of Technology Lausanne, Switzerland
Laurie Boyer
Massachusetts Institute of Technology, USA
Elena Cattaneo
University of Milan, Italy
April Craft
Harvard Medical School, USA
Anne Grapin-Botton
University of Copenhagen, Denmark
Edith Heard
Institut Curie, France
Brigid Hogan
Duke University, USA
Fredrik Lanner
Karolinska University, Sweden
Todd McDevitt
Gladstone Institute of Cardiovascular Disease, USA
Hanna Mikkola
University of California, Los Angeles, USA
Guy Sauvageau
University of Montreal, Canada
Eric Siggia
The Rockefeller University, USA
Jason Spence
University of Michigan, USA
Lorenz Studer
Memorial Sloan Kettering Cancer Centre, USA
Azim Surani
University of Cambridge, UK
Takanori Takebe
Yokohama City University, Japan
Sally Temple
Neural Stem Cell Institute, USA
Pierre Vanderhaeghen
Universite Libre de Bruxelles, Belgium
Meeting photo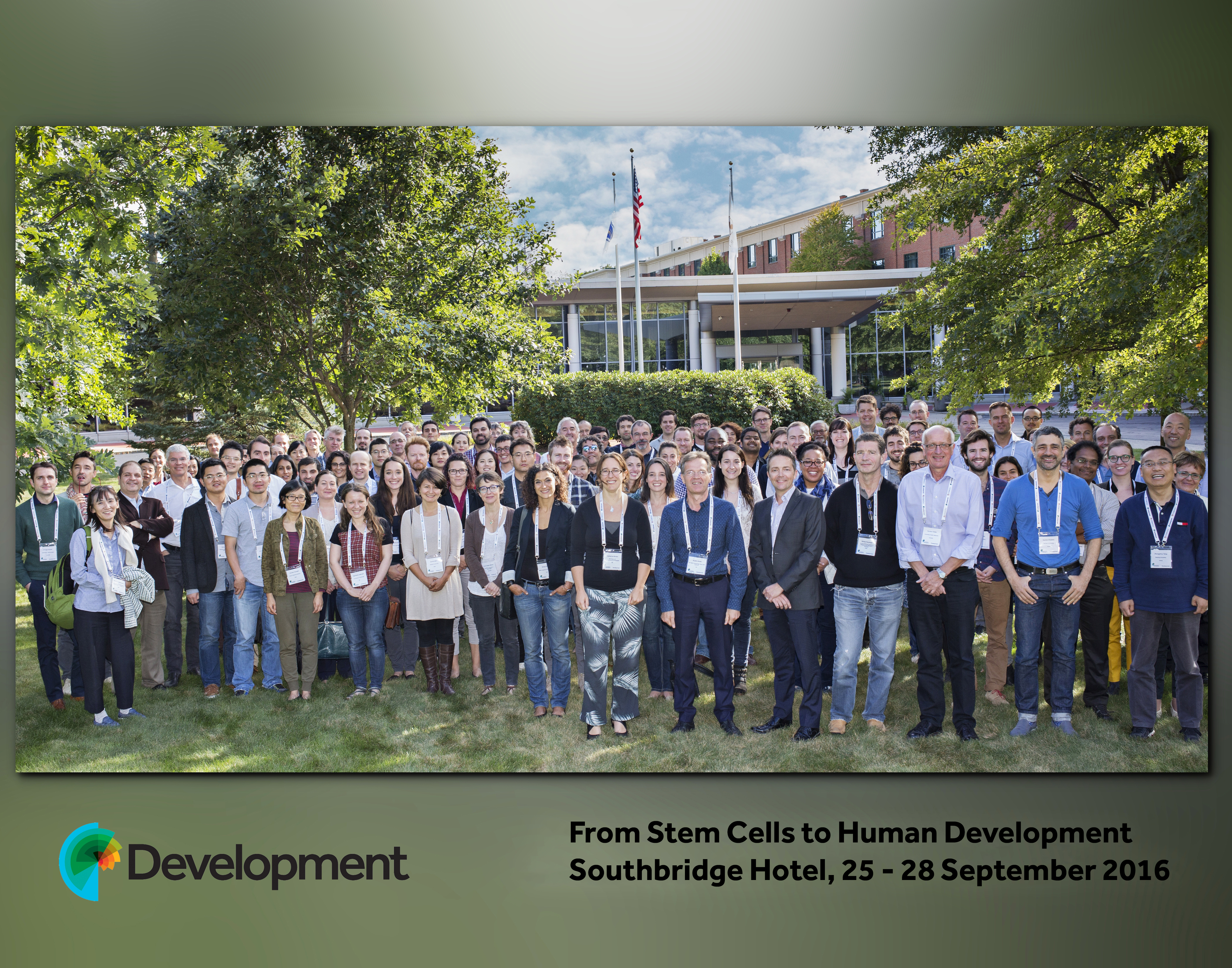 Meeting gallery
This slideshow requires JavaScript.
From stem cells to human development
25 – 28 September 2016
Southbridge Hotel, Southbridge, MA, USA
Registration packages 
The fees include;
Registration and meeting costs
3 nights' accommodation (Sunday to Wednesday) in an en-suite room with single occupancy
All meals (including dinner on Sunday to lunch on Wednesday), coffee breaks and evening reception drinks throughout the Meeting
Use of the leisure facilities at Southbridge Hotel & Conference Center
Social activity on the Tuesday afternoon
Delegate pack and programme
It is expected that all attendees will stay for the duration of the Meeting.
| | | |
| --- | --- | --- |
| | US Dollars | Pound Sterling |
| Students/Postdocs | $995 | £695 |
| Academia | $1,150 | £800 |
| Industry | $1,400 | £975 |
A limited number of day delegate places are available, please email meetings@biologists.com for more information.
Venue

Southbridge Hotel & Conference Center is located in the USA, minutes from Sturbridge and less than an hour's drive from Boston, Springfield, Hartford, CT, and Providence, RI.  The building was originally constructed as an optical factory and has been refurnished and remodelled into a superb conference centre.
Southbridge Hotel & Conference Center
14 Mechanic Street
Southbridge
MA 01550
USA
Tel: +1 508 765 8000